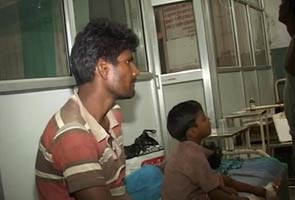 Chhapra, Bihar:
Lal Deo Mahato was sowing rice in the field when he heard that his daughters had fallen violently ill at their school.
He rushed them to a local primary health centre, which referred them to Chhapra's main hospital, an hour away. When their condition deteriorated, he was among those who boarded an ambulance to Patna, 60 kilometres away.
His four-year-old daughter, Preeti, survived. But Priyanka, age 8, died in his arms en route.
She is one of the 23 children, between the ages of 5 and 12, who were poisoned by the free lunch served at their school in the village of Masrakh.
The Bihar government has said it suspects a conspiracy. The headmistress of the school is missing; the groceries used for the mid-day meal were supplied by a grocery store owned by her husband, who is also on the run.
Education Minister PK Shahi said traces of insecticide or organic phosphorous have been detected, but a detailed forensic report is awaited.
Today, the government has released ads in local newspapers that order school principals and cooks in charge of preparing hot lunches to taste the food before it's served to students.
The components of the tragedy including the response of his government -some parents say there were inexplicable delays in getting the sick children to hospital and inadequate medical attention when they did make it there - has created a serious crisis for Bihar Chief Minister Nitish Kumar, usually credited for developing one of India's poorest states with responsive and efficient governance.
India's midday meal scheme is one of the world's biggest school nutrition programs, designed as an incentive for poor parents to send their children to school.
Nearly 120 million school children are serviced by the scheme, which aims to address concerns about malnutrition.
Although there have been occasional complaints about the quality of the food served, or the lack of hygiene, the tragedy in Bihar is unprecedented for the massive food program.