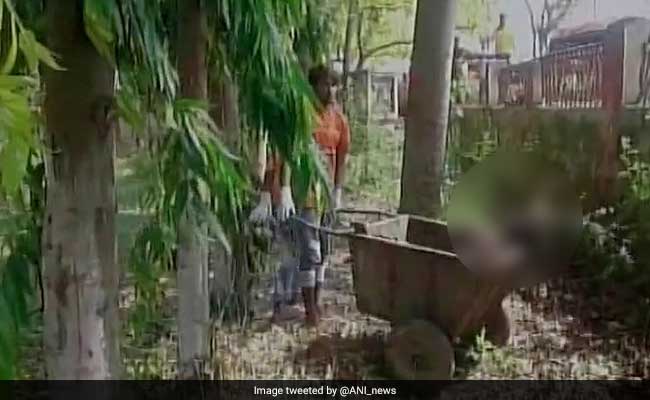 Muzaffarpur, Bihar:
In a gut-wrenching tale of apathy, a woman's body was lugged around in a garbage cart at Muzaffarpur's Sri Krishna Medical College and Hospital (SKMCH). The woman died on Wednesday and instead of a stretcher, the staff at this hospital in Bihar carried her body in a garbage cart for autopsy. The heartbreaking visuals of the incident which soon came into circulation prompted District Magistrate Dharmendra Singh to order a probe into the matter.
"We have ordered a probe into the unfortunate incident (dead body of a destitute woman being pulled inside a garbage cart to be taken for post-mortem at SKMCH). Strict action will be taken against those found responsible for negligence," Mr Singh said today.
Muzaffarpur District Civil Surgeon Dr Lalita Singh, too, expressed disgust over the incident and promised strict action. However, she said that the SKMCH has several mortuary vans which could have been pressed into service and unavailable to bring the destitute woman's body for autopsy.
The woman had died near a park inside the SKMCH after battling illness for over two weeks. A gardener Kanchan Bhagat, employed with the SKMCH, said that he had noticed the ailing woman writhing in pain and had informed doctors about it. He alleged that none of them paid any attention to her.
There has been a string of similar incidents that have jolted the nation in the past few months. Just a few weeks ago, a man had to carry his 15-year-old's body first on his shoulders and then on a bike in Uttar Pradesh's Etawah as he wasn't provided any transport by the hospital to return home.
In March, the relatives of a woman were forced to carry her body home on their shoulders after being allegedly denied an ambulance at a government hospital in Bihar's Muzaffarpur district.
Last year, Dana Majhi had to walk 10 km in Odisha's Kalahandi - one of the poorest districts in India - with his wife's stiff body on his shoulder because there was no hearse available at the hospital where she died.
(With inputs from PTI)