Ayodhya:
Twenty-five years after
Babri Masjid was demolished
by
karsevaks
in Ayodhya, the most striking image of this pilgrim town was not today's procession by the Vishwa Hindu Parishad. It was the view of the Ram Ki Pauri bathing ghat by the banks of river Saryu, where two months ago, the Yogi Adityanath-led Uttar Pradesh government lit 2 lakh
diyas
on Diwali eve to create a world record.
15-year-old Sachin Tripathi and 12-year-old Gopal, both studying to be priests at a local Sanskrit institution, were born long after the events of 1992. Building a
Ram temple
is important, they say, but more essential is cleaning the ghats.
"It was good back then, during Diwali, because Yogi-ji had come. Then he left and see what happened," said Gopal. "Will Ayodhya become heaven like this? Let him stay here, then he would realise. When he comes, everything is clean. Cleanliness is important first, after that, the mandir (temple)," he added.
Five km away from the ghats, stands the Saket College, Ayodhya's most prestigious educational institution that opened in 1951. Today, it was one of those rare Babri Masjid demolition anniversaries, when the college was kept open by the administration.
"We have moved on from
mandir-masjid
," most students said. "Where are the jobs, the factories," they ask. The BJP's development mantra, they say, has not reached here.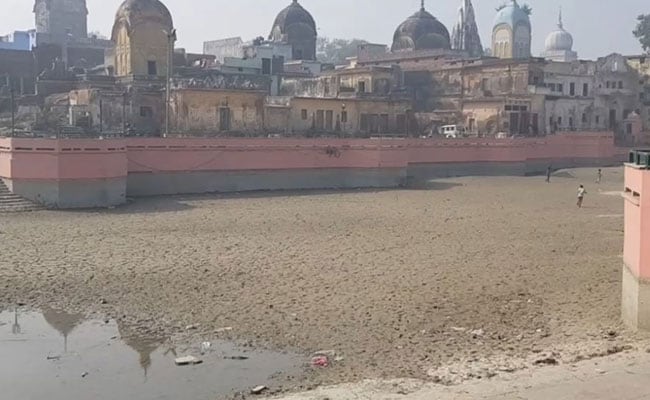 According to government figures, between 2003 and 2012, the number of industrial units in Ayodhya-Faizabad area went up by just 50 -- from 377 to 426.
"The development of Faizabad and Ayodhya has been completely stuck because of this issue," said Syed Dildar Rizvi, student of English Literature at the Saket College. He said he is willing to accept whatever the Supreme Court says. "Being a student, I want my development. If Faizabad or Ayodhya is developed, bigger companies will come into Ayodhya. We will get jobs and our lifestyle will change," he added.
Since Yogi Adityanath took charge of Uttar Pradesh in March, big plans have been announced for the town - its highlight the construction of a 100-ft tall Ram statue on the banks of Saryu. There were plans to promote Ayodhya as a big religious tourism destination, by building a Ramayan Circuit by the Saryu. The complex, which would cost Rs 133 crore, would also include an art gallery and a digital museum.
"In the whole world, no government can give jobs to everyone, whichever government it is. The biggest thing is religious tourism," said Lallu Singh, BJP Member of Parliament from Faizabad.
A few kilometres from the home of the lawmaker, Ram Phal, a long-time resident of Ayodhya, part-time bhajan singer and worker at the local community toilet Sulabh Sauchalaya, said the focus on tourism is fine, but what is needed is basic amenities.
"My vikas (development) is also important. I have been stuck like this for 20 years. No one is looking at me. I don't know what the government is doing," he said. Citing an example, he said, "I tried to get a ration card a few months ago and applied online. But they are refusing to give me one. I guess I don't have the jack".