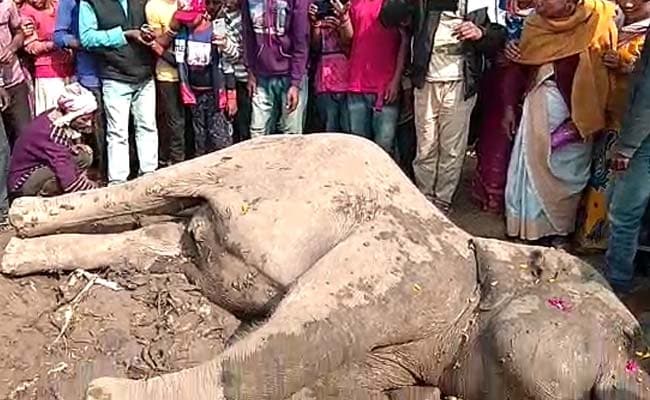 Highlights
Four elephants die in Assam after speeding train hits them
Train hits elephants as they were crossing tracks at Hawaipur Station
Accident in an area already marked as an elephant corridor
New Delhi:
Four elephants were killed in Assam's Nagaon district on Saturday after being hit by a speeding train.
The accident took place when a herd of elephants was in the area, as the Guwahati-Silchar passenger train was crossing the Hawaipur Railway Station, said PJ Sharma, Chief Public Relations Officer of the Northeast Frontier Railway. The impact was so intense that four elephants died on the spot while another is critically injured. The engine of the train derailed due to the impact; no passenger was injured.
A special train has been sent from Lumding, to help the stranded passengers, an official of Northeast Frontier Railway said.
Locals claim that the accident happened in an area that has already been identified as an elephant corridor, and they even waved and tried to stop the train driver.
Elephant deaths, due to accidents, are on the rise in Assam; the state forest department data says 110 elephants died in 2016 and 118 in 2015. Train accidents, poisoning by farmers and electrocution are the main causes of elephant deaths, say forest department officials.
An official from World Wildlife Fund says, areas in Assam where elephant deaths are on the rise have lost 70 per cent of its forest cover, forcing the animals to stray into villages.
As per the Assam forest department, control rooms at divisional offices, to monitor the elephant movements and anti-depredation squads, with local support have been set up to, deal with the problem.
The department, along with North East Frontier Railways, has organised awareness camps for train drivers to tackle situations arising out of elephant movement near railway tracks.
The Asian elephants of Assam have been declared as 'endangered' by the International Union for Conservation of Nature.