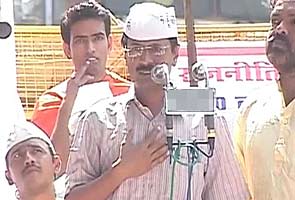 New Delhi:
As Salman Khurshid held his dramatic press conference on the allegations against his NGO in Uttar Pradesh, activist-politician Arvind Kejriwal continued with his attack on the Law Minister. Addressing supporters at Parliament Street, where he along with other members of India Against Corruption have been protesting for three days now in their demand for the Law Minister's resignation, Mr Kejriwal said today, "If Khurshid has any shame, he will announce his resignation at the press conference."
Mr Kejriwal in his speech also accused Akhilesh Yadav's UP government of colluding with the Centre in attempting to shield the union minister. "They keep saying we are throwing accusations at them. These are not our allegations. These are the allegations of the Akhilesh Yadav government, which conducted an inquiry this year. The trust was also sent a showcause notice in July and Mrs Khurshid had to reply in 15 days. It's been four months, and she still hasn't replied. Mr Yadav's government now says another inquiry will be conducted now. This means that the evidence will be destroyed now."
"It's not Kejriwal or any political opponent I need to worry about...Third rate people in India are doing third rate things... All this is being done as they want to launch their own party and they want to take over the country...We will fight tooth and nail, won't give into these blackmailers," the Union Minister said in London.
The raging war of words is centred around a controversy over alleged financial malpractices in the Zakir Hussain Memorial Trust - headed by Mr Khurshid and run by his wife Louise - that is meant to help people with special needs in his home state of Uttar Pradesh. The allegations that were aired recently in a sting carried by a Hindi news channel claimed that the NGO forged signatures of government officials to attest that the funds were being used as intended. Since then, Mr Kejriwal has been vociferous in his demand for Mr Khurshid's resignation.
"We need non-corrupt leaders; not someone like Salman Khurshid," he had said yesterday.
A draft report by the Comptroller and Auditor General (CAG) invigorated his campaign against Mr Khurshid. The draft report, accessed by NDTV, pointed out several irregularities in the utilisation of Central grants given to the trust. It says that in 2009-10, a Central grant of Rs. 71.5 lakh - meant for distributing aid and appliances to differently-abled people in 17 districts of Uttar Pradesh - wasn't fully utilised, with the trust giving out wrong information. The draft report also suspects fraud in the accounts of Mr Khurshid's trust.
Earlier, his wife, who is in the eye of the storm for being at the helm as the alleged scam played out at the NGO, told NDTV, "I do not believe any signatures have been forged... Khurshid seems to have been made a victim of conspiracy... Why should Salman resign, what has he done wrong?" (Watch)
She also dared Mr Kejriwal to visit the camps run by her NGO to prove the alleged bunglings. "Arvind Kejriwal is an ambulance chaser...he is making all sorts of allegations...Does Kejriwal know what our trust does since 1986?...Let Kejriwal face the beneficiaries of our camps in 17 district," she said, adding, "Kejriwal would want anyone walking on the street to resign if that person didn't agree with him."
The government too backed the Law Minster, continuing to Mr Kejriwal's allegations a "stunt for cheap publicity."
"He is like bull in a China shop. He doesn't know what is democracy; he doesn't know what is parliamentary procedure'; he doesn't know what is administration. He wants cheap popularity and he is using the media for this," Minister of state in the PMO V Narayansamy said today.
"Instead of finding solutions, he (Kejriwal) is playing politics," Coal Minister Sriprakash Jaiswal said.
The Opposition, meanwhile, seized the opportunity to corner a government, already besieged with a string of scams. "He is law minister of India. He is supposed to uphold the law of the country. If his family trust is involved in the case of forgery, it is very unfortunate. An independent inquiry should be conducted," BJP leader and spokesperson Ravishankar Prasad said.