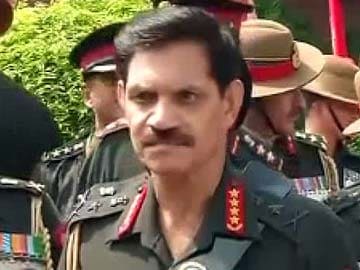 New Delhi:
New Army Chief General Dalbir Singh Suhag today warned Pakistan that India's response to any provocation - like the beheading of a soldier last year - would be "more than adequate, intense and immediate."
On Thursday, outgoing Chief Bikram Singh had said India gave a "befitting reply" after an Indian soldier was beheaded by Pakistani troops in January, 2013, along the Line of Control.
"It has been done. Please understand that when we use force, that use is from tactical to operational to strategic levels. When I mention that during that incident, it was aimed at operations at the tactical level, which have been undertaken. I think this has been done by the local commander, the Chiefs have nothing to do with it," General Singh said.
General Suhag, who took charge on Thursday, was asked to clarify today what that "befitting reply" was.
"My predecessor has already conveyed this yesterday, I can only tell you that our response to any such act will be more than adequate in future and it will be intense and immediate," he said, speaking to reporters after a Guard of Honour welcoming him as the new commander.
Lance Naik Hemraj Singh was beheaded and another soldier was killed by Pakistani troops who crossed over into Indian territory in the Mendhar sector of Jammu and Kashmir on January 8 last year. That incident and a series of ceasefire violations took the strained ties between the neighbours to a new low.
Later in August, five Indian soldiers were killed in an ambush in the same sector, in a joint attack by Pakistani Special Forces and terrorists.
General Suhag said he would prioritize the effectiveness of the 1.3 million-strong force. "My focus will be my soldiers...to enhance the preparedness and the effectiveness of the Indian Army. I will ensure that our soldiers are motivated, they are comfortable, competently trained and are provided with latest weapons and equipment," he said.