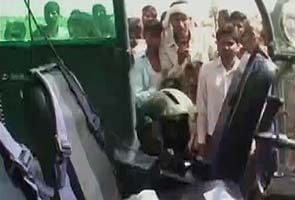 Jaipur:
An Indian Air Force (IAF) Mirage-2000 combat aircraft has crashed in Sawai Madhopur in Rajasthan.
The pilot has ejected, said a defence spokesperson in Jaipur.
The fighter aircraft took off from Gwalior and crashed in Babanbas in Sawai Madhavpur district.
There is no report on ground casualties yet.
"The crash occurred around 12.45 p.m. The pilot ejected to safety," the officer said.
This is the second Mirage-2000 crash in 10 days. A trainer version of the jet had crashed in Madhya Pradesh Feb 24, but both pilots, one of whom was an air marshal, had managed to eject in time.