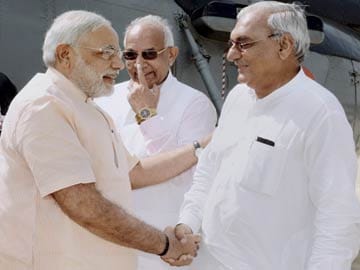 Kaithal:
Hours after being booed by a crowd at a public event in Prime Minister Narendra Modi's presence today, Haryana Chief Minister Bhupinder Singh Hooda said he would never share the stage with him again.
Mr Hooda was present when PM Modi launched a road project in Kaithal in election-bound Haryana, in perhaps the last such event before a code of conduct comes into effect.
Polls are likely to be announced later this week in the Congress-ruled state.
The Chief Minister was deeply embarrassed when the gathering booed him and shouted slogans as he got up to make his speech. He was forced to rush through his prepared text while Mr Modi waved to the crowds urging them to remain calm.
The incessant heckling left Mr Hooda almost inaudible. He alleged later that the crowd was organized by the BJP.
"It was meant to be an official function but turned into a political rally. The BJP has violated the pride of the institution of PM. I went to keep the pride of the chair. In future, I will never attend a function with the PM," Mr Hooda said.
It got steadily worse for Congress leaders on the stage as Mr Modi's speech had the crowd roaring in approval.
With an eye on the polls, the PM, visiting Haryana for the first time since taking power in May, said he would "return the love" of the people "with interest." He promised "development like Gujarat" and an end to corruption. (
Read More...
)
In the national election three months ago, Mr Modi's party, the BJP, won seven of 10 seats in Haryana and it hopes to extend that performance in the state elections.