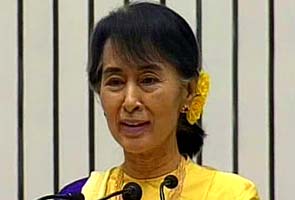 New Delhi:
On her first visit to India since her release, Myanmar's pro-democratic leader Aung San Suu Kyi said she was saddened that India was drawn away from her country in its "most difficult days".
Speaking at the Jawaharlal Nehru Memorial Lecture in Delhi she said, "I was saddened to feel that we were drawn away from India, or rather India was drawn away from us during our most difficult days."
The National League for Democracy leader, who was under house arrest for over 21 years, was referring to the period when India established diplomatic relations with the military junta in the 1990s. India had initially supported the pro-democracy movement in Myanmar.
Suu Kyi said she always had faith in the lasting friendship of India and Myanmar which was based on love and kinship between the people of the two countries.
"This is what I wish to emphasise again and again. Friendship between countries should be based on friendship between people and not friendship between governments," she said.
"Governments come and go and that is what democracy is all about. But, people remain and as long as our people remain bound in understanding and mutual respect, the friendship between our two countries will last far into the future," she said.
Suu Kyi said Myanmar had not yet achieved the goal of democracy.
"We are trying and we hope that in this last battle, the people of India will stand by us and walk by the path they were able to proceed many years before," said Suu Kyi, who is on a first visit to India in 25 years.
In her 30-minute speech, Suu Kyi expressed her deep appreciation for the leaders of India, particularly Jawaharlal Nehru, for their "precious friendship".
"It was their life that helped me to find my way through the uncharted terrain," she said referring to the trials and tribulations she had to face in the struggle for democracy in Myanmar.
Earlier, Congress President Sonia Gandhi hailed Suu Kyi as the "most remarkable figures of our times" and described her visit to India as "something of a homecoming".
Suu Kyi spent her formative years in India studying at the Convent of Jesus and Mary and later graduating from the Lady Shri Ram College.
When she delivered the Jawaharlal Nehru Memorial lecture at the Vigyan Bhawan, present in the audience were her teachers and students from the school and college she studied at.
On a personal level, Ms Gandhi said she was delighted to renew the links with Suu Kyi that go back to two generations.
Suu Kyi's father General Aung San was a personal friend of Nehru.
India had honoured Suu Kyi with the Jawaharlal Nehru Award for International Understanding in 1993 while she was under house arrest under the military government in Myanmar.
During the day, Suu Kyi discussed the process of democratisation in Myanmar with Prime Minister Manmohan Singh. She also offered tributes at Rajghat and Shanti Van the memorials to Mahatma Gandhi and Nehru respectively.