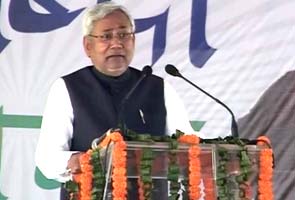 Patna:
Bihar Chief Minister Nitish Kumar has rubbished reports that he harbours Prime ministerial ambitions. He said he was happy working for the people of Bihar and did not dream of becoming the PM.
"I am a humble worker of the people of a poor state. The people of Bihar have given me the opportunity to serve them and whatever abilities I have, I will use them to serve the people of this State, I don't think or see anything beyond that," Mr Kumar said.
Speaking to reporters on Monday, Mr Kumar endorsed BJP leader Ravishankar Prasad's view that the nominee for the Prime Minister's post should be from the major party within the NDA.
"I myself have been saying the same thing for long... Ravishankar Prasad has said the same thing," Mr Kumar said.
Mr Kumar, under whose leadership NDA won 33 of the 40 Lok Sabha seats in Bihar and confined Lalu Yadav's Rashtriya Janata Dal (RJD) to merely four in the last general elections, said he had been repeatedly saying that "PM candidate should be from the largest party of the alliance."
When told that Gujarat Chief Minister Narendra Modi, considered a strong contender for the PM post from NDA, also said that he was happy working for the state, Mr Kumar refused to comment.
He disagreed with the comments of Delhi Chief Minister Sheila Dikshit that Rs 600, to be given under cash subsidy transfer scheme, were sufficient to feed five members of a family in a month.
"It is impossible to feed five members of a family in Rs 600 a month that will come down to Rs 4 per person daily," he said.
Mr Kumar backed the UPA government's cash transfer scheme, but said it would fulfil the UPA's "game-changer" claim in 2014 polls only when beneficiaries were correctly identified by constituting an independent commission for those who live below the poverty line (BPL).
He also pointed out major gaps in the Centre's count of BPL beneficiaries in the state and elsewhere which was a major hurdle in implementation of subsidised foodgrains scheme through PDS.
"In Bihar while the Centre provides subsidised foodgrains for about 72 lakh BPL beneficiaries, the actual count as conducted by the state government by adopting the central criterion comes to 1.40 crore," he said to drive home his point.
Picking holes in the cash subsidy scheme, Mr Kumar said it recommended purchase of uniform for school children through a committee which would be a major problem in Bihar as the state government was successfully providing direct cash for the purpose.
"I have pointed it out to the PM and shall raise it prominently in the coming meeting of NDC (National Development Council)," he said.
He took exception to the Industry and Commerce Minister Anand Sharma ruling out special category status to Bihar and said he had written to the Prime Minister directly contesting the argument of the Inter-Ministerial Group constituted by him on the issue and did not give much credence to what Sharma said.
"I have not put this demand to the Industries minister so what he says does not make much difference," he said.
The Bihar Chief Minister also said that he would mobilise support of other states which fell short in major developmental indices as compared to national average for strategic plan for them.
He, however, ruled out forming any front (of such states) for this purpose.