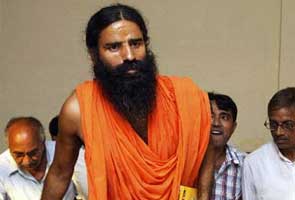 Dehradun:
Yoga guru Baba Ramdev has refuted allegations that he was behind the split between Gandhian activist Anna Hazare and his associates.
The erstwhile Team Anna officially split into two rival halves on Thursday with the 75-year-old activist refusing to support the political ambitions of Arvind Kejriwal, who was considered his closest aide. Mr Hazare met Baba Ramdev on the same day, sparking speculation of a tie-up between the two.
"Those saying that I caused a split between Anna Hazare and his associates are spreading a canard and indulging in petty politics. I had no role to play in this," Baba Ramdev said at a press conference at
Patnajali Yogpeeth
in Haridwar.
He said he will spell out the nature of his ties with Mr Hazare ahead of 2014 Lok Sabha elections.
Baba Ramdev also announced postponement of his one-day sit-in at Jantar Mantar in Delhi on October 2.
He said an intense
Swadeshi Andolan
will instead be staged across 650 districts in the country on that date.
The yoga guru said Prime Minister Manmohan Singh was acting like the CEO of multinational giants like Wal-mart to justify FDI in multi-brand retail. He said, by parting ways with the UPA Mamata Banerjee had justified her reputation of being a 'tigress'.