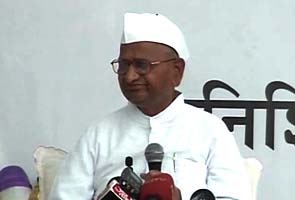 Mumbai:
Barely 500 people gathered for yesterday's anti-corruption rally organised by activist Anna Hazare at the Kamgar Maidan, which has a capacity of 5,000. That's a telling testimony, given the generous outpouring of support the Gandhian had witnessed in the initial phase of his Lokpal Bill movement. "We don't call them; people arrive of their own accord. Whatever the strength of the crowd, it has gathered on its own," said Bhavesh Patel, Mumbai president of Anna's Bhrastachar Virodhi Jan Andolan.
Last December, Anna had abruptly called off his hunger strike at MMRDA grounds. The venue was lying empty, as was the Kamgar Maidan yesterday. Even when Anna started delivering his speech, people appeared more interested in shouting slogans rather than listening to the 'modern Gandhi'. Anna reiterated his favourite anecdotes and caveats. "I haven't seen my brothers, don't even know the names of their kids, don't have a bank balance and didn't marry for serving the country," he proclaimed. Strangely, people were witnessed leaving the venue even as the activist was delivering his speech.
Same old story!
Anna also dwelt upon reminiscences of how twice people wanted him to be bumped off, but the shooters didn't do anything because he's a 'bramhachari'. He also said, "If I want, I can collect Rs 1 crore within minutes. People will give it to me." Interestingly, after the rally got over, volunteers were seen requesting people to donate money for the movement.
Meanwhile, among the politicos, P Chidambaram was firmly on Anna's radar. "If Lokpal comes, it would be Chidambaram who would be behind bars first. It was he who had put me in jail the first time because he's scared of Lokpal," said Anna. He stuck to his point that the Prime Minister is honest, but then added that the PM is run on a remote control and succumbs to pressure. "In Coalgate there has been money laundering. I don't think the PM has taken money, but the money has gone somewhere. We need to find it," said Anna, while speaking to the media.
Just gossip?
The reported rift between Anna and IAC was not perceptible with Mayank Gandhi from IAC Mumbai sharing the dais with the anti-graft crusader at the rally. Anna himself claimed that mischief mongers were spreading rumours. But no presence of IAC in the banners for the rally indicated that all, perhaps, was not well. Anna will now be addressing rallies in Navi Mumbai and Thane in the next two days. He claims he and his supporters will jump onto the streets after the election dates in 2014 are announced. He also maintained that not all politicians are bad, but those who are, have to be removed.