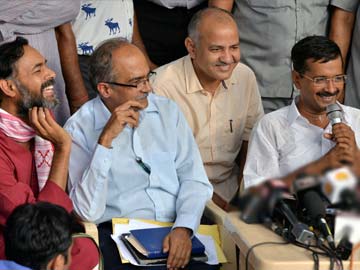 New Delhi:
Faced with severe criticism, Aam Aadmi Party leader Arvind Kejriwal today announced significant restructuring of the party from the grassroots to the national level and tried to reach out to dissidents, admitting he too makes mistakes.
At the end of the party's three-day national executive meet, Mr Kejriwal announced 'Mission Vistar (expansion)' under which all existing committees of the party will be formed again and "new people" will be included in the next one year.
At a press conference, flanked by top AAP leaders, Mr Kejriwal said having differences in a "democratic" party was quite normal and hoped that AAP will grow stronger.
Trying to put behind his rift with senior leader Yogendra Yadav, Mr Kejriwal said, "He is my elder brother. He has the right to scold me. I take his suggestions seriously. I am a human and when I make mistakes, elder brothers like Yogendra Yadav point it out to me."
Yesterday, the AAP National Executive had rejected resignation of Yogendra Yadav and Shazia Ilmi who had attacked Mr Kejriwal for "lack of internal democracy" in the party.
Mr Yadav had quit from AAP Political Affairs Committee after charging Mr Kejriwal with "falling prey to personality cult", while Ms Ilmi had resigned from the party saying a coterie surrounding the former chief minister was running the party.
"It's time to restructure the party. The entire party will be reconstituted from booth to national level. New people will be picked. We will go to village and will bring more people in the party. We'll call it 'Mission Vistar'," Mr Kejriwal said.
He said AAP performed well in Lok Sabha elections, though it won only four seats. "Has it ever happened that a small young party won four seats in its first election. Despite a (Modi) wave, we did well," he said.
AAP had fielded over 430 candidates in LS polls.
Mr Kejriwal said Congress was completely rejected by people in the Lok sabha polls while AAP had given hope for an alternative.
The AAP chief also wished Prime Minister Narendra Modi well. "Modi is the country's new Prime Minister. We wish him well, hope he will fulfill people's dreams," he said.
Terming restructuring of the party as a huge task, Mr Kejriwal said a six-member committee has been formed to rejuvenate it. He said convenor of party's Karnataka unit Prithvi Reddy will lead the committee which will look after entire restructuring of the national executive.
He also announced that the Political Affairs Committee will also be constituted.
Yesterday, the AAP chief had said efforts will be made to bring back Ilmi to the party fold. During the National Executive meeting, the party discussed its prospects in states like Maharashtra and Haryana, where assembly polls are slated later this year.
Mr Kejriwal said that the party will take a decision on contesting the assembly polls in these two states after more deliberations and a report by a top committee of the party.
The fledgling party had made a stunning debut in the Delhi Assembly polls in December by winning 28 out of the 70 seats and even formed government. But Arvind Kejriwal quit as Chief Minister after 49 days on the issue of Janlokpal Bill.
Mr Kejriwal and his close associates have come under attack following party's dismal performance in the Lok Sabha polls. On government's proposal to increase FDI in defence to 100 per cent, Mr Kejriwal opposed the move. He attacked BJP for the worsening power situation in Delhi.
"BJP should fix the power crisis in Delhi," he said.
The AAP leader appealed to the Centre not to raise gas prices as decided by the UPA government and welcomed setting up of an SIT on black money.