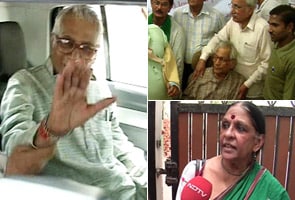 New Delhi:
Jaya Jaitly, a close aide and long time friend of George Fernandes, expressed her anger and frustration on Wednesday at being kept out of his house for several hours by the police. (
Read: Jaya Jaitly kept out of Fernandes' home
)
Commenting on the incident, former president of the Samata Party Jaya Jaitly said, "Well you know I am so sorry that people make this a women's fight. When men slug it out on the streets they never say oh two men fighting. Women always make it undermining the issue. I am fighting for Fernandes' value system. I am fighting for the right to my own simple ordinary property, and I am fighting for justice for the sake of a man, who has fought for it for everybody else all his life."
"He had thrown his gates away when he was a minister and today those same gates are shut and some thugs from behind the gate are telling me I can't enter," Jaitly added.
"I think they are undermining and humiliating Fernandes and that is what the shame is, and obviously the people who are doing this don't know what he stands for so, they don't deserve to be looking after him today. I will never have enough because Fernandes told me himself," she further said.
"Some fights may be never ending, but the thing to learn is never bending. And I am going to fight for it as long as any one of us is alive, because what has been done is tragic and wrong," said the former chief of the Samata Party.
Meanwhile, concerned about the condition of the ailing George Fernandes, at the centre of a family dispute, the Delhi High Court wants to hear what he has to personally say.
The court asked his wife Leila Kabir to produce him before it on July 5 to know his mind. The court directed Kabir to produce the 80-year-old ailing politician as "it wants to ascertain what he wants". (
Read: Judge wants George Fernandes in court
)