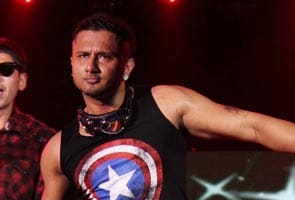 New Delhi:
Punjabi rapper Honey Singh, who is under fire for the obscene lyrics of some of his songs, has spoken out against the uproar, saying his name has been unnecessary dragged into controversy.
"All this going on right now. They just needed an excuse and they've found one. CONGRATULATION!" Singh tweeted.
"Before you blame me, blame the government for not taking action against the rapists in the first place! Don't use me as an excuse! #HoneySinghIsInnocent - trend if you're with me! I've admitted that my past was a wrong choice, but now I deliver completely different music," he added.
Following an active online petition, Singh's performance in Bristol Hotel, Gurgaon, where he was supposed to perform on New Year's Eve, was cancelled. An FIR was also filed against the Punjabi rapper in Lucknow on Monday.
Outrage against the rapper and his derogatory songs have been pouring on social networking sites like Facebook and Twitter for the past few days.
The focus on his lyrics comes as India mourns and introspects over the death of a young student who was gang-raped on a moving bus in Delhi.
(
With IANS inputs
)