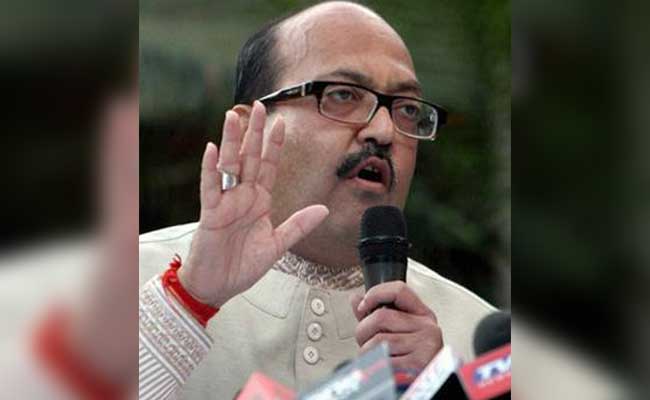 Lucknow:
Amar Singh, the controversial politician blamed for the conflict between Uttar Pradesh Chief Minister Akhilesh Yadav and his father Mulayam Singh Yadav, today said there was nothing new in his upgrade to one of the highest levels of security.
"I didn't get Z-level security today - I always had it. There is a threat perception. This (security) was always there with me during the Manmohan Singh regime, and I even have it now during the BJP regime," said Mr Singh, a Rajya Sabha lawmaker.
The sudden upgrade of the well-connected politician's security cover on the weekend was linked to the Samajwadi Party feud and conspiracy theories that Mr Singh is acting on the BJP's directions and trying to split UP's ruling party before the February-March state polls.
The 'Z' category security cover - the second highest level of protection - entitles Mr Singh to 24 commandos of the central armed police. He has been given this security in Uttar Pradesh, where former Chief Minister Mulayam Singh is the only other person with Z security.
Mr Singh enjoyed the same level of security during the previous Congress-led UPA's rule. His security was downgraded in June. In 2010, his security was downgraded after the Samajwadi Party expelled him.
"When I was in London, a lot of conspiracies were against me. My posters and effigies were being burnt," Mr Singh said.
He denied instigating Mulayam Singh, while indirectly attacking Akhilesh Yadav. "I don't have any son who would want to get into politics," he said.
Attempts at a compromise between father and son are believed to be incumbent upon Mr Singh's future in the party. Sources say Akhilesh Yadav wants his father to keep Mr Singh firmly away from decision-making.
Today, father and son each presented before the Election Commission their argument on why they deserve the party's poll symbol, "cycle".
On record, Mr Singh has chosen an emotional response. "I had ensured that Akhilesh had good education, I took him to Australia...," he said.