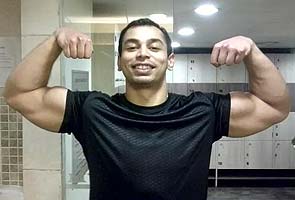 Lucknow:
The Samajwadi Party often faces the charge of furthering dynasty politics with its unabashed and unabated promotion of its First Family. Six members of the Yadav household are already active in politics. Now party chief Mulayam Singh Yadav's younger son, Prateek, may join them.
Older brother Akhilesh, 39, is the chief minister of Uttar Pradesh.
Prateek, who is 25, is a body builder of local acclaim.
A section of Samajwadi Party workers swarmed the party office in Lucknow recently urging Prateek to contest the next Lok Sabha election from Azamgarh.
Mulayam Singh has already declared the bulk of his candidates for the general election in 2014, interpreted by many as a sign that he does not expect the ruling UPA coalition, which he supports from outside, to last its term.
Ram Sengar Yadav, a local leader from Azamgarh, says " We want Prateek to contest from here because more development will then take place in Azamgarh. Ours is a backward area."
But sources say Mulayam Singh's family is divided over Prateek's political prospects.
Mulayam's second wife and Prateek's mother Sadhna Gupta nurtures political ambitions for her son. But some believe Prateek's entry into politics could lead to a bitter sibling rivalry with Akhilesh, whose mother Malti Devi died many years ago.
After winning the UP elections for the party, many see Akhilesh as Mulayam's political successor, a perception encouraged by his uncle Ram Gopal, a powerful Samajwadi leader.
But pressuring Mulayam to expedite Prateek's political launch is Mulayam's other brother, Shivpal Yadav, who opposed the decision to make Akhilesh the chief minister earlier this year. As the news of party workers demanding a seat for Prateek spread, Ram Gopal Yadav said, "There is no such demand. It is just a creation of the media.". The party has already decided to field Cabinet Minister Balram from the Azamgarh seat.
Explaining the divide, local journalist Sharat Pradhan says, "The alignment is that Akhilesh and Ram Gopal Yadav are together. And on the other the side, you have Prateek being backed by his mother Sadhna and uncle Shivpal Yadav. Mulayam does the balancing act."