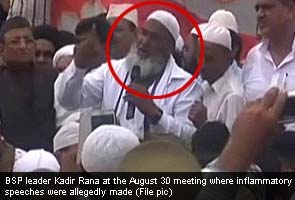 New Delhi:
Muzaffarnagar MP Kadir Rana, who is wanted by the police for inciting communal clashes that killed nearly 50 and left 40,000 displaced in his constituency, allegedly signed in his attendance in Parliament on a day he was addressing a controversial gathering in Uttar Pradesh.
It is not known whether it was a deliberate attempt to craft an alibi.
Mr Rana, a member of Mayawati's Bahujan Samaj Party (BSP), is accused of making highly incendiary speeches at a gathering on August 30 called after Friday prayers, at a time when public meetings had been banned amid tension after the killing of three young men in Kawal village - two Jat cousins and a Muslim man. The cousins were allegedly lynched by a mob after they killed a Muslim man for harassing their sister.
But on the day he was making that speech in Muzaffarnagar, Kadir Rana has signed in his attendance in the Lok Sabha register in Delhi, implying that he was in Parliament at the time. Sources say he may have signed the Lok Sabha register later, as is a common practice among MPs.
Mr Rana was one of the nine politicians against whom a court issued arrest warrants today. The Uttar Pradesh police say they will arrest the politicians within two days. (
Muzaffarnagar riots: warrants against politicians, still no arrests
)
As his constituency struggles to cope with the aftermath of the violence which drove thousands of villagers to relief camps, Kadir Rana has not been seen for almost two weeks. He hasn't been to his homes in Muzaffarnagar or Delhi, say his staff. (
read: Where is Kadir Rana?
)
"We don't know where he is, but he has not gone underground," said Mr Rana's secretary at his home in Muzaffarnagar. "He is being framed, his words have been twisted out of context. He will soon come out and speak to the media," the aide said.
Mr Rana, who left the Samajwadi Party in 2007, was in the Rashtriya Lok Dal before he switched to the BSP in 2009. He has four criminal cases against him, including murder, attempt to murder and robbery.