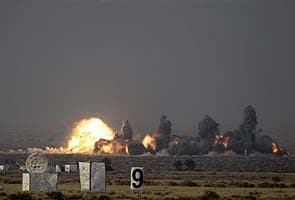 Jaipur:
After arresting two men in the last few days, the Intelligence Bureau in Rajasthan is piecing together whether the pair worked together to leak important information to Pakistan's ISI.
On Tuesday, an employee of the Home Ministry, Surendra Kumar, was arrested in Delhi. Sources say that starting April last year, he shared official documents including a list of Pakistani prisoners in India with Sumar Khan.
Mr Khan was arrested on February 24 in Rajasthan for allegedly spying for Pakistan and passing on details of the "Iron Fist" exercise conducted by the Indian Air Force recently in Pokhran on the border. He was caught trespassing in a high-security area. According to sources, he was caught after his calls to Pakistan were intercepted by the Army Intelligence and the Intelligence Bureau.
Mr Kumar was summoned to Jaipur from Delhi for questioning on Sunday. Intelligence officials say that Mr Kumar's interrogation has revealed that he tried to access passwords to important computers in the Home Ministry, but was unsuccessful.
Investigators say Mr Khan, who lived in Jaisalmer, travelled to Delhi and other places to meet with Mr Kumar and would pay him for information in cash.
Mr Khan posed as a visa agent who helped foreigners in Jaisalmer, where there are many restrictions on foreign tourists because of the area's Air Force base on the border with Pakistan.
Intelligence officials say Mr Khan was reporting to an ISI officer, but they also suspect that with Mr Kumar, he was in touch with an official in the Pakistani embassy in Delhi.
After Mr Khan was arrested, senior officials in the Intelligence Bureau allegedly received a series of calls made over computers, asking if he had been caught alone, interpreted as signs of a larger network that is worried about its identity being breached.
The Bureau has now alerted its officials against sharing information over the phone without first verifying the caller's identity.