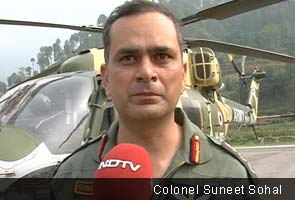 Gauchar, Uttarakhand:
Almost a decade ago, Suneet Sohal, then a Major in the Army, was flying me on a tiny Cheetah helicopter from Partapur, a Brigade Headquarters in North Ladakh, to the Army's Siachen base camp, the hub of all operations along the Siachen glacier. We were flying low over a valley above the Nubra river alongside the mighty Saltoro range dominated by soldiers of the Indian Army.
Everything was fine. The weather seemed clear and we would reach our destination in minutes. Then, all hell broke loose.
All of a sudden, out of nowhere, we flew into a snow storm and the good visibility we had was reduced to zero visibility in a matter of seconds. This was a complete white-out, nothing at all could be seen, not even the skids of the helicopter just a few feet to my side. There was no perception of depth whatsoever. Beneath us, there was a river. On the sides, there were vertical cliff faces and no one had a precise idea of just how close we were to their jagged edges. We were flying blind.
Cool as a cucumber, Suneet brought his Cheetah to a hover. And waited. "We are just a few hundred metres from the base camp. I'm looking for an opening in the weather," he told me. But there was none to be found.
We couldn't hover at one spot indefinitely. Fuel was running low. Suneet took a decision. Abort the mission. Fly back.
I learnt a lesson that day. When pilots tell you that weather changes in the high Himalaya in moments, they're deadly serious.
About two weeks ago, when I travelled to Gaucher, a tiny air landing ground north of Rudraprayag in flood-torn Uttarakhand, I saw a familiar face. It was Suneet, now the Commanding Officer of the Army's 205 Army Aviation Squadron. He had been flying his Dhruv Advanced Light Helicopter for the last several days on the Kedarnath front and had rescued countless pilgrims and others stranded on the heights.
Suneet knew the terrain here well and was flying to the worst affected areas along the Gaurikund-Rudraprayag axis. With Army Headquarters having cleared me for a sortie, I asked Suneet if I could accompany him.
Within half an hour we were airborne. This was already Suneet's third sortie of the day. We were to fly to Junglechetti, from where the Army had been struggling to evacuate pilgrims, a thousand of whom had been discovered overnight.
And then it happened. Again.
Ahead of us, as we approached the Gaurikund area, the clouds closed in. This wasn't as dramatic as the Siachen episode but the writing was on the wall. This mission had to be aborted.
"We're diverting," Suneet told me and proceeded to fly in the direction of the pilgrimage site of Hemkund Sahib where he had been ordered to pick up stranded pilgrims and trekkers and drop them off at Badrinath. By the time the mission ended, each and every pilgrim had been rescued and we returned to Gaucher.
But that's hardly where the day ended. Rushing into the lone hangar at the Gaucher air-landing ground, Suneet grabbed a bite to eat. No proper lunch. Just some hastily cooked dal, chawal and vegetables.
That was when a call came in - the weather had opened over Gaurikund-Kedarnath. And there was no time to complete his meal.
"We're going to the Kedarnath side. Two helicopters. Get onboard. We leave immediately."
With a roar of its French-designed Turbomecca Shakti engines, Suneet's Dhruv was airborne in moments. There was no air traffic control here to guide us. No watchful radar. Choppers, military and civilian, had been operating on a special frequency for the rescue operations. Communicating is important and chatter between pilots on the radio is constant. There were dozens of choppers in the skies and the only way to get a fix on their location was through the radio.
As we entered the narrow Kedar valley in Sonprayag, the extent of the devastation became immediately clear. The narrow pilgrimage path cut into the mountain is a wreck every few metres. It seems as if parts of the track have been destroyed by an earthquake.
Except there was no earthquake here.
It was the river.
The Mandakini river had risen, perhaps sixty feet. It seemed unbelievable but the destruction of the path had been caused by torrents, the ferocity of which went on to claim perhaps 10,000 lives. We may never know for sure.
As we flew up the steep valley, on my left I spotted the wreckage of a civilian helicopter which had crashed just a day earlier trying to land on a postage-stamp-sized helipad. The pilot had been lucky to survive, his helicopter was inches away from plunging into the ravine.
Minutes later, we were over Kedarnath. The only structure standing is the temple. Everything else has been destroyed or very seriously damaged. Kedarnath looks like an island. The temple and the remains of structures are at the centre. Two streams of the river pass on either side.
Our mission was to air drop supplies to stranded pilgrims. But we couldn't slow down too much to ensure our drop was accurate. At this rarified altitude, the Dhruv helicopter needed to maintain a certain airspeed given the weight we were carrying onboard. Within minutes, we spotted a group of stranded people and dropped supplies - freshly cooked meals, drinking water and medicines.
As we regained some airspeed and altitude , Suneet decided it was possible to fly a circuit of the area to try and spot survivors.
And then it happened again.
Fast moving clouds. Kedarnath, which was visible just moments back was blanketed by clouds.
Suneet did not wait a moment, banking sharply to the right in a U-turn to a part of the valley where visibility was still OK.
A call came in on the radio. There were pilgrims waiting to be rescued at Gaurikund.
Suneet glanced over at his co-pilot. They needed to take a call. The weather was closing in fast but there were people who desperately need to be picked up.
It would be close. The last thing anyone wanted was to operate in these heights in poor visibility and changing weather, but ultimately, the choice for the crew of this Dhruv was simple - there were lives to be saved. If it was dangerous, so be it.
Suneet picked up airspeed to close the distance to Gaurikund. Aligning himself with the small helipad, he quickly descended and touched down.
Engines still roaring, the cabin door slid open. What happened next has come to define my experience as a reporter covering the Uttarakhand tragedy.
Six children with their parents were waiting for days for a chopper to fly them to safety. The youngest, just four.
Our chopper was in the right place at the right time. If Suneet had thought twice about going into Gaurikund, these children would have been stranded. Their ordeal would have been extended until the next batch of choppers could make it in, perhaps a day later.
We flew back to Gauchar and all was well. But I will never forget the story one of the survivors told me: "There was a man who went into the forests to try and find a friend of his. He saw a bear eating the remains of a man who had died. Even after we survived the deadly waters, there were so many other dangers. Thank god, we've managed to get out."
Back in Gauchar, Suneet switched off his Dhruv helicopter. Half-joking, I told him we hit a cloud everytime he flies me. None of us laughed.
It's hard to imagine that just a few weeks ago, a part of this air strip was used as a pasture for cows and goats belonging to villagers.
No one would have ever known that within a day of the Kedarnath tragedy, on June 17, Gaucher would become the stage of a war, a war not to kill an enemy, but to save lives.
The warriors were our men and women in uniform, determined, tireless and remarkably skillful in getting to remote areas hit by disaster, helping stranded pilgrims get out, from morning till late at night.
As the operations picked up pace, there were helicopters simutaneously taking off and landing here in Gaucher every few minutes. The pace of operations here had to be seen to be believed.
As air-rescue efforts wind down in the Kedarnath area, this operation goes down as one of the biggest peacetime air-rescue missions in history.
From June 18, the Indian Air Force has flown 2,200 sorties, evacuated 19,000 people and flown in 336930 kg of equipment and supplies.
The Indian Army, with its smaller fleet of choppers, flew 774 sorties and rescued 3500 people.
Civilian pilots operating choppers which ferry pilgrims in these areas played a yeoman role as well, saving countless lives.
But these numbers do not really express what lay at the heart of the mission: the hope these men and women made possible by undertaking an operation in such unbelievably difficult terrain, amidst sharp, biting winds and on tiny helipads, some constructed in hours by army para-commandos blasting holes in the rockface.
Flying here has always been and will always be some of the most challenging in the world.
The air operations have come at a huge cost. When you push the limit, like our forces did, accidents happen, sometimes despite the skill of the pilots.
On the June 25, tragedy struck the Indian Air Force. A recently inducted Mi-17 V5 helicopter on a rescue mission from Gauchar to Guptkashi and Kedarnath crashed North of Gaurikund. All 20 persons onboard including five Air Force Officers, nine NDRF personnel and six ITBP personnel were killed.
Undeterred by this tragic loss, the Air Chief's message to his officers was direct - keep the rotors churning, the job is not complete.
By the time the operations gained their full momentum, the Indian Air Force had thrown in some of their most precious assets, including the world's largest helicopter, the Mi-26, which flew in fuel bowsers and recently acquired C-130J transports which brought in mobile hospitals. In all, there were upwards of 60 civilian and military aircraft deployed on the Uttarakhand front, the bulk of them helicopters.
When hope faded fast in the Garhwal mountains, the sound of churning helicopter rotors signalled that all had not been lost.