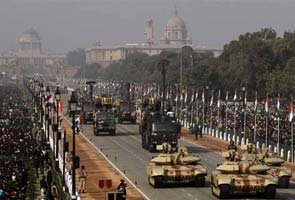 New Delhi:
The historic Rajpath has become synonymous with the January 26 parade, but it was an amphitheatre named after a former Viceroy that was witness to the celebrations marking the birth of the Republic 63 years ago.
"At the most solemn ceremony held in the brilliantly lit and high domes of Durbar Hall at Government House, India was declared a Sovereign Democratic Republic exactly at 18 minutes past 10 on the morning of January 26, 1950. Six minutes later, Dr Rajendra Prasad was sworn in as President," reports Fauji Akhbar (now Sainik Samachar) in a February 4 article in 1950.
"The birth of the Indian Republic and the installation of its first President were announced by a salute of 31 guns shortly after 10:30 am," says the report.
In an impressive swearing-in ceremony, the retiring Governor General, C Rajagopalachari, read out the proclamation of the Republic. The President then took the oath and made a brief speech, first in Hindi and then English.
"Today for the first time in our long and chequered history, we find the whole of this vast land from Kashmir in the north to Cape Comorin in the south, from Kathiawad and Kutch in the west to Coconada and Kamrup in the east, brought together under the jurisdiction of one Constitution and one Union which takes over the responsibility for the welfare of more than 320 million men and women that inhabit it," President Prasad said in his speech.
Adding to the splendour of the occasion was the President's procession passing through the streets of Delhi. As it made its way through the Irwin Amphitheatre (now National Stadium), chants of "jai" echoed through the streets. People cheered from tree-tops and building roofs. The President greeted them with folded hands.
"The drive ended at 3:45 pm at the Irwin Amphitheatre, where 3,000 officers and men of the three armed services and the police had taken positions for the ceremonial parade," reports the article.
Close to 15,000 people who had gathered at the amphitheatre witnessed the historic moment.
The marching of troops at the amphitheatre against the backdrop of the Old Fort or Rajendra Prasad taking a ceremonial ride at the Great Place (now Vijay Chowk) without any security cover today stand as signatures of that historic day after which the Republic Day venue shifted to Rajpath from next year.