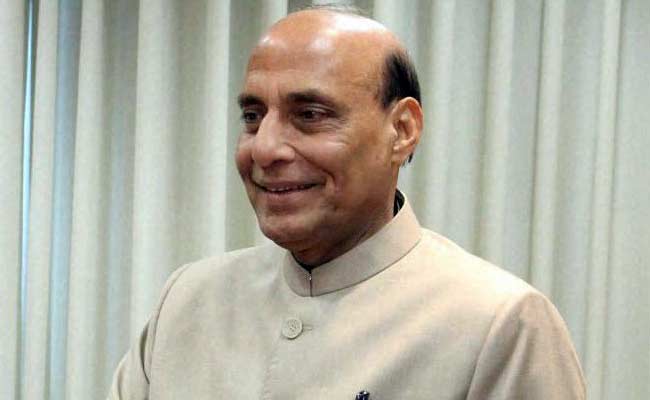 New Delhi:
Days after warning China against any construction on Indian territory, Home Minister Rajnath Singh today said that China "has illegally occupied Aksai Chin in Ladakh and incursions by Chinese troops don't augur well for maintaining cordial ties."
India has firmly and repeatedly rejected China's claims to Arunachal Pradesh and Aksai Chin, which covers about 40,000 square kilometres in the Ladakh region of Kashmir.
Jammu and Kashmir vote over the next few weeks. The Home Minister blaming the Congress, tweeted: "India lost precious territory to China and Pakistan due to wrong policies of the Congress."
India lost precious territory to China and Pakistan due to wrong policies of the Congress.

-- Rajnath Singh (@BJPRajnathSingh) November 20, 2014
Despite a visit to India by Chinese President Xi Jinping in September, tension between Delhi and Beijing has been climbing even as both countries try to build trade and economic ties.
Prime Minister Narendra Modi's government has been working to improve infrastructure in border areas and has recently eased environmental curbs to allow the building of roads and military facilities in Arunachal Pradesh. China has objected to India's plans to build nearly 50 border posts in the rugged mountain state.
China has vastly improved its own roads and is building or extending airports on its side of the border in Tibet.
In September, India and China agreed to pull back troops ranged against each other in a remote part of Ladakh, ending their biggest face-off on their border in over a year.
The two armies had mobilised about 1,000 soldiers each, accusing the other of building military infrastructure in violation of existing pacts.
The two armies were locked in a three-week standoff in May 2013 in the western Himalayas after Chinese troops set up a camp 20 kms inside Indian territory in Ladakh.
The number of Chinese infringements had reached 334 by August, the government told parliament in that month.