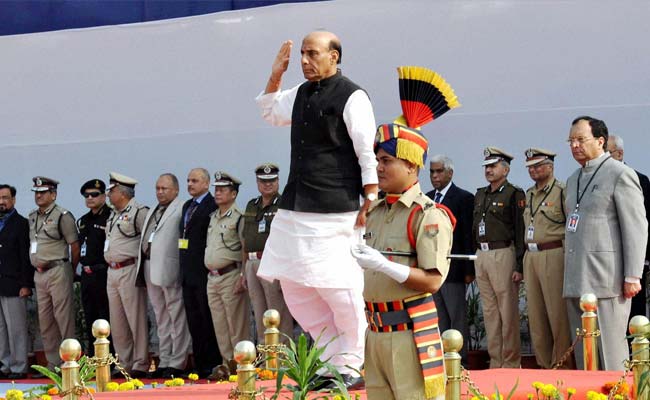 Guwahati:
In a scathing attack at Pakistan, Home Minister Rajnath Singh on Saturday accused its "state actors" of attempting to destabilise India.
Speaking at a conference on security in Guwahati - attended by police chiefs from across the country, as well as senior officials from intelligence agencies - Mr Singh said that Pakistan was still supporting militants against India in Kashmir. He pointed to a guerrilla attack earlier this week on an Army patrol in Kashmir in which at least 10 people were killed.
"It is unfortunate Pakistan does not mend its ways," Mr Singh said, singling out Pakistan's Inter-Services Intelligence as one of the "state actors" seeking to roil India's security.
"I do not hesitate in saying Pakistani state actors have a role in destabilising India," Mr Singh said, repeating a longstanding Indian demand that Pakistan rein in militants.
The Home Minister's remarks come on the heels of the South Asian Association for Regional Cooperation (SAARC) summit held earlier this week in Nepal that was overshadowed by tension between India and Pakistan and ended with little progress towards regional integration.
Kashmir has been a flashpoint in relations between the two nuclear-armed neighbours, which have fought two of their three wars since Independence from Britain.
New Delhi has called the recent militant attack in Kashmir, which came just after first round of the five-phase elections in the state, a deliberate attempt to upset relations between India and Pakistan.
Mr Singh also voiced concern about young people from India joining the Islamic State after the arrest of Areeb Majeed, one of the four young men from Mumbai who left their homes in May reportedly to join the militant group.
The man is believed to have spent nearly six months fighting for the Islamic State, according to the police.
"Even though ISIS was born in Iraq and Syria, the Indian subcontinent cannot stay untouched by it - we need to be aware of that reality," Mr Singh said.
Muslims make up some 14.4 per cent of India's population, accounting for about 176 million people, according to a report by the Pew Research Centre, a US think-tank.
More radical forms of Islam have not gained much of a foothold in the country, despite Muslims lagging behind Hindus economically.
"A few Indian youth are getting swayed towards it (ISIS), which is a matter of concern," the Home Minister said.
India was ready to deal with such security challenges, he added.
Mr Singh also told the senior police officers present, "There might be many terrorist organisations in the world, but we will not allow them to get a foothold in our country".
Prime Minister Narendra Modi is set to address the conference, which is being held outside Delhi for the first time, on Sunday.