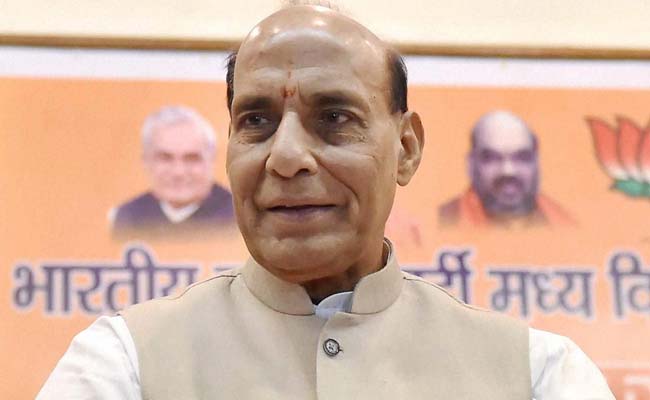 Bhopal:
Union Home Minister Rajnath Singh today pushed for making Hindi one of the official languages of the United Nations as he lamented that Hindi could not get its desired place in India probably due to regional politics.
"Hindi should be made one of the official languages of the UN. When the International Yoga Day can be held on June 21 following the mandate of 177 nations, why can't Hindi language become one of the official languages of the UN? We should make efforts to achieve this goal," Mr Singh said in his concluding address of the three-day World Hindi Conference.
The next edition of the mega event will be held in 2018 in Mauritius, which has a large population of India-origin people.
The Minister's assertion came in the wake of reports that India is lobbying for the support of at least 129 member-nations of the UN so that Hindi is granted the status of an official language of the world body.
The current official languages of the UN are English, French, Spanish, Russian, Chinese and Arabic.
Mr Singh said Hindi had united the country during the freedom struggle, but unfortunately it couldn't become the "Rashtriya
bhasha" (national language). It only became "Raj bhasha" (language of governance).
Unfortunately, post-independence, our leadership couldn't make Hindi the language of India possibly due to regional politics and political gains, he maintained.
Hindi acts as the common link language, which binds the people from Kashmir in the north to Kanyakumari in the south,
Mr Singh said.
Given the wide use of Hindi, it is a misconception that English was the 'sampark bhasha' (link language) of India, the Home Minister noted.
He said according to search giant Google, the content generation in Hindi on Internet in India was 94 per cent, whereas it was just 19 per cent in English.
Bollywood megastar Amitabh Bachchan was to attend the concluding session of the conference but could not make it to the event.
But in his message, read out by Rajya Sabha lawmaker Anil Dave, he spoke about importance of dialogues in Hindi films and how they are inspired by words spoken by common people rather than their refined form found in dictionaries.
Bachchan touched upon Mahatma Gandhi's statement regarding the glory of Hindi language.