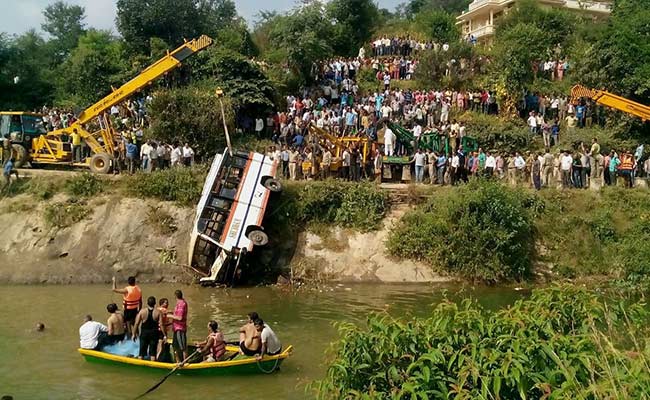 Shimla:
At least 25 persons today drowned and 17 others went missing after a bus fell into the Gobind Sagar reservoir at Rayian near Bilaspur, 95 km from Shimla.
Twenty-five bodies have been recovered while 17 injured persons have been taken to a Bilaspur hospital, Bilaspur Deputy Commissioner Ajay Sharma said.
He said rescue operations were almost complete and chances of recovering more bodies could not be ruled out.
The deceased included five women, he said, adding 22 bodies have been identified.
The 40-seater bus was packed to capacity and some people were said to have been also travelling on its roof, raising fears that the toll may be higher.
A number of students and labourers, who were making their daily commute from Rishikesh to Bilaspur, are among the victims.
The bus, belonging to a private transportation company, has been pulled out of the reservoir. It was on its way from Rishikesh to Bilaspur and most of the passengers on board were locals.
Among the injured are some passengers who managed to jump out of the bus in order to save themselves.
Divers of Bhakra Beas Management Board (BBMB) joined efforts to fish out the bodies.
A large crowd of locals has gathered at the spot making anxious enquiries about the victims of the mishap.
A pall of gloom descended on the village as the news about the accident spread.
Principal Secretary (Revenue) Tarun Shridhar and DGP Sanjay Kumar rushed to the spot along with other senior officers to supervise rescue operations.
Prime Minister Narendra Modi offered his condolences to the families of those who lost their lives in the accident.
"The Prime Minister extends his condolences to the families of those who lost their lives in the bus accident in Bilaspur district, HP," the PMO said.
Governor Urmila Singh and Chief Minister Virbhadra Singh expressed sympathies with the next to the kin of the deceased.
The Chief Minister announced immediate relief of Rs 10,000 each to the next of the kin of the deceased and Rs 5,000 each to the injured and said that ex-Gratia amount of Rs 1.50 lakh to the next of kin of the deceased would be released soon.
A magisterial enquiry has been ordered into the mishap.
Additional District Magistrate, Bilaspur will conduct the enquiry and submit the report within one week to the government.