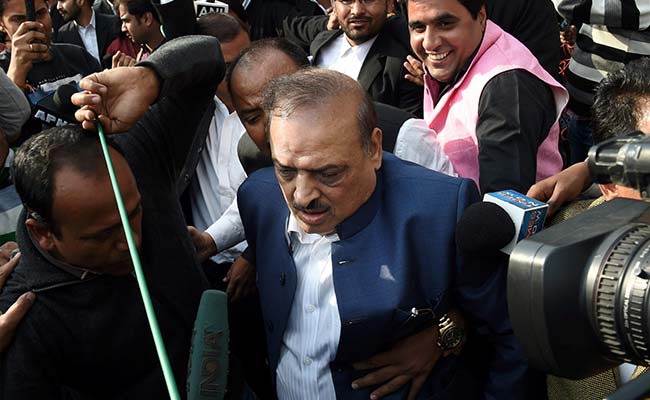 New Delhi:
The Delhi Assembly today witnessed high drama after a BJP MLA used an "objectionable" word against a ruling AAP legislator during a discussion on water shortage in the national capital.
Following the ruckus, Delhi Chief Minister Arvind Kejrwial hit out at the BJP, accusing the saffron party of dividing India in the name of Hindus and Muslims.
Delhi Assembly Speaker Ram Niwas Goel later referred the matter of BJP legislator O P Sharma using an objectionable word against AAP's Amanatullah Khan to the House Privileges Committee.
The action came after AAP legislators demanded action against the Viswas Nagar BJP MLA, saying his remark was an "insult of the House".
Mr Sharma was speaking on water shortage in his constituency during which he also criticised some Delhi government officers.
When Amanatullah Khan opposed this, Mr Sharma used the objectionable word against him.
Later, the Speaker expunged the word used by Mr Sharma from House proceedings.
While referring the matter, Speaker Ram Niwas Goel said that the word used by the BJP MLA is "objectionable" and asked the Committee to present its report as soon as possible.
Following this, AAP legislators trooped into the Well of the House demanding strict action against the BJP legislator.
When the Speaker referred the matter to the Privileges Committee, BJP MLA Jagdish Pradhan walked out of the House to register his protest.
Mr Kejriwal took to twitter to accuse the BJP of dividing India.
"See the BJP MLA - shameful. BJP wants to divide India in the name of Hindus and Muslims. This is what Pakistan wants. BJP is fulfilling the intensions of Pakistan.
"Why did Narendra Modi go to Pakistan to meet Nawaz Sharif; Why did he call ISI for investigation in Pathankot? What is the relationship of BJP and Pakistanis?" Mr Kejriwal said.
In the House, Deputy Chief Minister Manish Sisodia too slammed Mr Sharma, saying his remarks could not be tolerated and demanded action against him.
He said those in power at Centre and in opposition in Delhi have a mentality of "dividing" the country.
The deputy chief minister said this country belonged to all and not just a particular religion, adding this is not just the question of an MLA and that this could not be tolerated in the House.
Following the ruckus over the issue, Speaker adjourned the House for 30 minutes.
When the House met again, AAP's Burari MLA Sanjeev Jha proposed to refer the matter to Privileges Committee of the House.
While proposing to refer the matter of Mr Sharma to the Committee, Mr Jha alleged that country cannot be "divided" in the name of religion.
Mr Jha said he wanted to know how Mr Sharma could use foul language against officers working with the Delhi government.