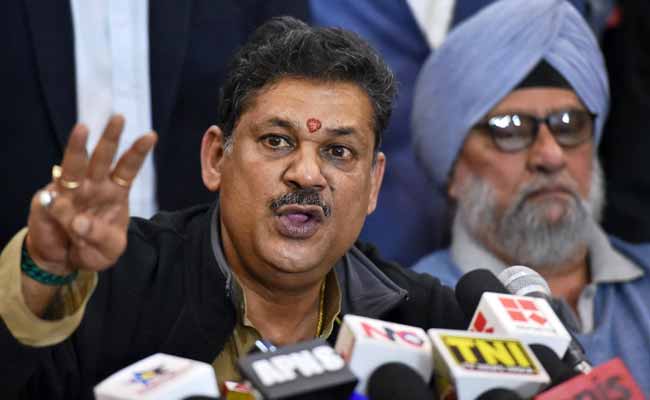 New Delhi:
BJP lawmaker and former cricketer Kirti Azad today openly dared his party senior Arun Jaitley in tweets, a day after he stopped short of naming him while alleging corruption in the Delhi cricket body that the Finance Minister headed for 13 years.
' hello dear @arunjaitley hampar defemation file kar rahe ho na? Please karo na Don't take injunction, don't gag freedom of speech.

— Kirti Azad (@KirtiAzadMP) December 20, 2015
' Mera naam kyon hata diya @arunjaitley#Aap ne toh mere letters dikhae theey, mujhpar karo na case, registered post se maine bheje theey

— Kirti Azad (@KirtiAzadMP) December 20, 2015
Asked to explain his tweets, Kirti Azad used an allegory and left it open to interpretation: "When Krishna was little, he fought against
Kalianag
- you can interpret this in the way you want - who is Krishna and who is
Kalianag
."
Mr Jaitley has filed a defamation suit against Delhi Chief Minister Arvind Kejriwal and other Aam Aadmi Party (AAP) leaders for accusing him of presiding over corruption in the DDCA or the Delhi and District Cricket Association. He has also asked for Rs 10 crore in damages.
Mr Jaitley was chief of DDCA till 2013.
Kirti Azad yesterday went ahead with a press conference on DDCA even after BJP chief Amit Shah reportedly tried to dissuade him, and told reporters: "I just want to expose corruption... This is not personal or against one person."
He showed a video that claimed DDCA had given contracts to various companies with false addresses. It also alleged that the cricket body hired office and other equipment and listed items like Rs. 16,000 for a laptop per day, Rs. 3000 for printer per day and Rs. 5000 for 'puja ki thali'.
Soon after Mr Azad's revelations, the Kejriwal government announced an inquiry headed by former Solicitor General of India Gopal Subramaniam into DDCA's corruption. AAP is also prepping to file a police complaint against Mr Jaitley.
In a Facebook post, Mr Jaitley rubbished the allegations and said: "The Serious Fraud Investigation Office, under the UPA regime, investigated and could not find a shred of evidence against me."
The DDCA has admitted that there were irregularities, but absolved Mr Jaitley and blamed its former chief Sneh Bansal.