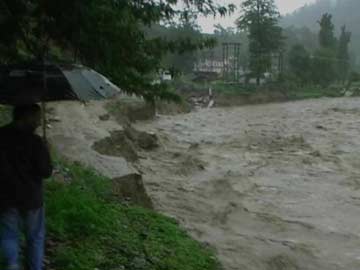 Dehradun:
Heavy rain and landslides have once again disrupted the 'chaar dhaam yatra' in the hill state of Uttarakhand with all roads leading to the Himalayan shrines of Kedarnath, Badrinath, Yamnotri and Gangotri blocked.
Since last night, it has been raining incessantly in many districts like Champawat, Chamoli and Nainital. Landslides have been reported in Lambagarh, Chirobagadh and Vijaynagar near Augustmuni in the Chamoli.
The weather department has issued heavy rain alert for many districts for the next 24 hours. Administration officers have been put on alert. State Disaster Response Fund or SDRF personnel have been deployed in vulnerable areas of Chamoli, Rudraprayag, Uttarkashi and Pithoragarh.
The state Disaster Management Department has asked pilgrims bound for the Himalayan shrines to be alert and well-prepared.
Drawing lessons from the last year's disaster that claimed the lives of thousands of pilgrims who were caught unaware by a deluge, the Disaster Management Department has begun issuing regular weather updates this season to ensure the safety of devotees.