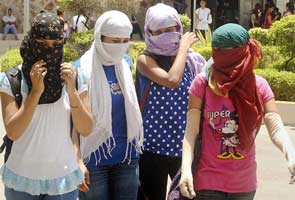 Bhopal:
Intense heat wave sweeping Madhya Pradesh has claimed three lives in the state since yesterday, police said today.
A 50-year-old man died due to severe heat in Sagar last evening, while another man was found dead under a tree on National Highway 26, they said.
A trainee constable also died following heat stroke at the Police Training School in Gwalior yesterday.
On Monday, Khajuraho remained the hottest place in the state with a day temperature of 46.7 degrees Celsius even as the capital sweltered at 44.3 degrees Celsius.
Heat wave continues to sweep Punjab, Haryana
There was no let-up in intense heat wave sweeping Punjab and Haryana, with maximum temperatures in the region today are expected to settle between 42-45 degrees Celsius.
Severe heat wave continued to sweep Hisar, Gurgaon, Bhiwani, Narnaul, Karnal, Ambala among other places in Haryana, MeT Department officials said.
Chandigarh, which yesterday recorded season's highest maximum so far at 42.9 degress Celsius, was again hot today.
In Punjab, sweltering heat swept Amritsar, Ludhiana and Patiala among other places.
According to MeT department forecast, heat wave to severe heat wave conditions may occur in some parts of Punjab and Haryana during the next few days.