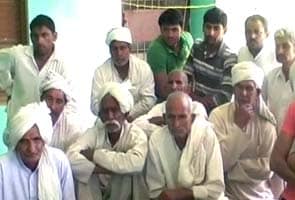 Chandigarh:
Amid outrage over a string of rape cases in Haryana, Khap panchayats in the state have come out with a bizarre suggestion that the marriageable age limit should be abolished. They claim it will check such crimes. But the ruling Congress saw a "conspiracy" in the incidents.
"Boys and girls should be married by the time they turn 16 year old, so that they do not stray... this will decrease the incidents of rape," Sube Singh, a Khap representative, said.
Another Khap member said, "As soon as the children attain puberty, it is natural for them to have sexual desires but when these are not fulfilled, they stray... so there should not be any minimum age limit for marriage."
The comments from members of the influential caste councils came a day after a teenaged Dalit girl immolated self after being allegedly raped in Narwana area in Jind district, the tenth incident in Haryana within a month.
So far, all five accused, including a cop, has been arrested in the case. Chief Minister Bhupinder Singh Hooda has assured that the culprits will not be spared.
Haryana's main opposition Indian National Lok Dal (INLD) has lashed out at the Hooda government, claim the incidents reflected its failure on the law and order front. In a statement, the party said that such incidents "are an indicator of how bad the state's law and order situation is under the Congress rule". The party's women activists will hold protest demonstrations across district headquarters on October 10 and will submit a memorandum to the State Governor in Chandigarh demanding dismissal of the Hooda government.
Dismissing the opposition's charge, state Congress president Phool Chand Mullana claimed that it was a conspiracy to malign the government. "Such incidents happened earlier also, we condemn them ...but no accused has been protected and all the culprits have been extended... I can say that this could be a conspiracy against the state government," he said.
"Who can tell where the next incident will take place, but wherever it has taken place, authorities have taken prompt action, so where is the question of law and order failure," the Congress leader said.
Haryana's Director General of Police Ranjiv Dalal too has denied that there has been an increase in such cases and criticised the media for presenting such a picture.
Concerned over teenaged girls being targeted, the National Commission for Protection of Child Rights (NCPCR) stepped in on Sunday seeking explanation from the state government in each case, including action taken against culprits. It said the recent incidents have emphasised the need to focus on several issues, including the skewed sex ratio in the northern state.
"Ten girls have been raped so far. There have been molestation charges. Our Commission will ask them what has been done in each case. Have all of the accused been arrested? What proceedings have been done?" NCPCR chairperson Shanta Sinha said.
"We feel that in Haryana, it is not the sole issue which is coming to limelight. You have seen the sex ratio as well. There has been only 830/1000 girls," she said.
She also stressed the need for a public awareness campaign in favour of girl children. "There should also be a fear amongst the ones who indulge in such activities. They should be punished so that the girls are safe," she said.