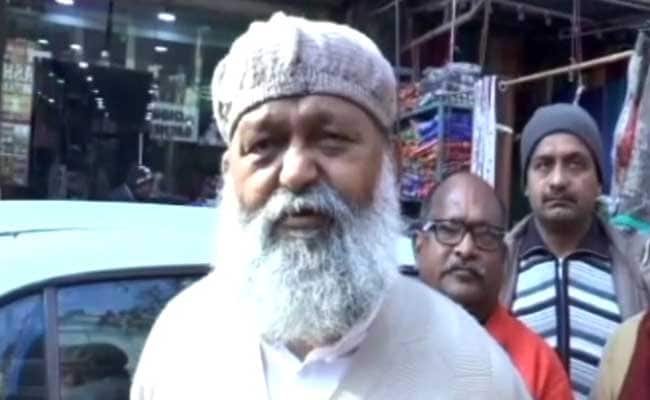 Chandigarh:
Haryana Health Minister Anil Vij on Wednesday fired yet another salvo against cricketer-turned-politician Navjot Singh Sidhu, accusing him of "behaving like a Pakistani agent."
"Navjot Sidhu (is) behaving like an agent of Pakistan in India," tweeted the outspoken senior BJP leader.
Punjab Local Bodies minister Mr Sidhu faced the fresh attack from Mr Vij on a day when his own Cabinet colleague, Tripat Rajinder Singh Bajwa also suggested that he should apologise for hugging the Pakistan army chief.
"Sidhu sahab is my senior colleague. I cannot dictate him. I can only suggest that he can gracefully say sorry to the families of martyrs who expressed unhappiness. I think there is no harm in saying sorry. He is a wonderful person and a senior minister," said Mr Bajwa.
Earlier, Punjab Chief Minister Amarinder Singh had ticked off Mr Sidhu for hugging Pakistan army chief Gen Qamar Javed Bajwa during Pakistan Prime Minister Imran Khan's swearing-in ceremony in Islamabad.
Mr Vij had earlier slammed Mr Sidhu for attending the swearing-in ceremony.
He had termed Mr Sidhu's participation in the ceremony as an "act of disloyalty" towards India, "not to be endorsed by any patriotic citizen."
Asked to clarify his fresh allegation against Mr Sidhu, Mr Vij said, "The way Sidhu is defending himself for hugging the Pak army chief, the way he is raising questions on some of our prime ministers' visits to Pakistan, the way Imran Khan is coming out in his support, the way Mr Sidhu is heaping praise on Pakistan... all this indicates he is behaving like an agent of Pakistan in India."
Mr Vij demanded the Congress clear its stand on Mr Sidhu's visit to Pakistan.
At a press conference on Tuesday, Mr Sidhu had defended hugging the Pakistan army chief and slammed BJP's "double standards", reminding it of former prime minister Atal Bihari Vajpayee's bus journey to Lahore and Prime Minister Narendra Modi's impromptu stop over in the same city.
Mr Sidhu had said hugging General Bajwa at the swearing-in of Imran Khan was an emotional response to the army chief's statement that Pakistan was working on opening the route to the Kartarpur gurdwara near Lahore for Sikh pilgrims.
Mr Sidhu was slammed by the BJP and the Akali Dal too for hugging Gen Bajwa on August 18.
Soon after Mr Sidhu's press conference on Tuesday, Mr Khan had tweeted his support, saying those criticising the Punjab minister were doing "a great disservice to peace in the sub-continent."
Mr Sidhu responded to Khan's tweet, saying by inviting him, the Pakistan prime minister had made him an instrument of peace and goodwill between the two nations.
Mr Vij earlier had lashed out at Mr Sidhu for "ignoring the sentiments of the people" mourning the demise of former prime minister Atal Bihari Vajpayee by visiting Pakistan to attend Khan's swearing-in ceremony in Islamabad, skipping the former prime minister's last rites despite often dubbing himself in the past as "Vajpayee saab da sipahi".
Replying to critics, Mr Sidhu on Tuesday said he had got the due permission from the Government of India to visit Pakistan.
"Two days after Pakistan granted me visa, Union minister Sushma Swaraj called me up and said the permission has been granted. Is there any violation of law? Was it (Pakistan) no man's land," he had asked.