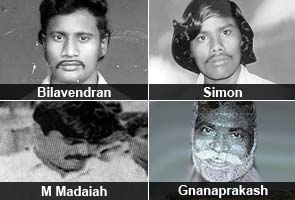 New Delhi:
The Supreme Court has said that four members of sandalwood smuggler Veerappan's gang, who have been on death row for years, cannot be hanged for at least six weeks, till their case is decided by the Chief Justice of India.
The recent hangings of Afzal Guru, convicted for the Parliament attack in 2001, and Pakistani terrorist Ajmal Kasab who was caught during the 26/11 attacks in Mumbai have provoked severe criticism from human rights groups.
The men whose hanging was stayed or suspended today were given the death sentence in 2004 for killing 22 police officers in Karnataka in a landmine blast in 1993. Last week, President Pranab Mukherjee rejected their mercy petition.
Their lawyers have argued in the Supreme Court that the nine-year delay by the President's office in deciding their appeal for clemency is inhumane, and that their sentence should be commuted to life imprisonment.
The Chief Justice of India Altamas Kabir said today that he will wait for a decision on similar cases being heard by a bench of two other Supreme Court judges. Three men convicted for their role in the assassination of former Prime Minister Rajiv Gandhi, and another death row prisoner, Devender Pal Singh Bhullar, convicted of a bomb blast in Delhi in 1993, have appealed against the death sentence because their mercy petitions were rejected after several years. This is cruel and inhumane, their lawyers have argued.
Veerappan's associates - Gnanaprakash, Simon, Meesekar Madaiah and Bilavendra -are in jail in Belgaum in Karnataka. For nearly two decades, Veerappan evaded security forces as he plundered sandalwood and smuggled ivory across Kerala, Tamil Nadu and Karnataka. He was shot in a police encounter in 2004.