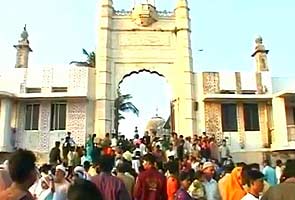 Mumbai:
Ruling out intervention by Maharashtra government on the issue of entry of women in restricted area of Haji Ali shrine, state Minority Development Minister Arif Nadeem Khan on Thursday said the Muslim clerics were entitled to take a decision on it.
The issue is old and the management committee of the shrine can take a decision on it, Mr Khan said in reference to the ongoing controversy of Mumbai's iconic and religious shrine Haji Ali Dargah barring women from entering the sanctum sanctorum housing the tomb of the 15th century Sufi saint.
"It is purely a part of rituals. The muftis and maulanas will take a decision on whether to allow women devotees inside the main area called as 'Mazar-e-Sharif'," Mr Khan told reporters on the sidelines of a programme in suburban Bandra.
He said women have been denied permission in the restricted area only, since it is an old issue. "The management committee can take a decision based on Sharia laws," he added.
Mr Khan said he has told the Bharatiya Muslim Mahila Andolan (BMMA), a women's group, to approach the muftis and maulanas regarding the issue.
The decision came to light when some members of the Andolan had visited the shrine in August. After noticing that women's entry into the sanctum sanctorum was disallowed, they surveyed 20 dargahs in the city.
"The shrine trustees told us the restrictions were imposed after a woman came inappropriately dressed last year," said Noorjehan Safia Niaz, founder, BMMA, calling the decision unislamic.
Erected on a bed of rocks, about 450 metres into the Arabian Sea and off the coast of Worli in south central Mumbai, the dargah has been immortalised by Bollywood in several movies.
Sufi shrines are known for an inclusive approach to devotees, but some have started segregating men and women visitors and seven dargahs in Mumbai have banned women from entering the astana, Ms Noorjehan had said.