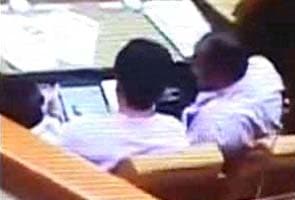 Ahmedabad:
Bad news all around for Narendra Modi and the BJP. On a day that it lost a sure seat in a by-election in Gujarat, it also has another porngate on its hands, this time in the Modi-ruled state.
A journalist with a local newspaper, Gujarat Samachar, has filed a complaint with Gujarat Assembly Speaker Ganpat Vasava, alleging that he, and a few other journalists, had seen two BJP MLAs looking at obscene photos in the state Assembly yesterday. Janakbhai Purohit, the journalist, has released a video clip - captured on a cellphone by another journalist - purportedly showing the two MLAs, Shankar Chowdhary and Jetha Bhai Dharwad, looking at obscene photos of women on an iPad while sitting in the House.
"First they started by watching the pictures of Swami Vivekananda, then cartoons and then pics of women...I saw them watching some sleazy photographs of women and felt it was wrong...I went to the Speaker's chamber and complained about it to his Personal Assistant that it was a repeat of Karnataka; he informed the Speaker and the viewing was stopped," the journalist said. "This went on for about 20 minutes...they were engrossed in watching the vulgar pictures," he added.
The Speaker has ordered an investigation by a special empowered committee of the Gujarat Assembly. He has also ordered MLA Shankar Chowdhary to deposit his iPad with his special secretary.
Mr Chowdhary has denied that any such incident happened. "This has no basis...no such incident happened...somebody is trying to defame me," the BJP MLA said. Mr Dharwad, who allegedly viewed porn along with Mr Chowdhary, said, "We will resign if found guilty."
The Congress has lashed out at the BJP saying it exposes "the real face of the Narendra Modi government." In Delhi, where the party is battling ally trouble, the Congress seemed to welcome the chance to turn focus on the BJP's embarrassment. Congress spokesman Manish Tiwari said, "BJP legislators are repeatedly defiling temples of democracy...it is time for the BJP to stop pontificating on morality and introspect or people will soon lose faith in them. "
Earlier this year, three ministers in the Karnataka Assembly, where the BJP is in power, were accused of watching porn on a cellphone. The ministers were forced to resign. A committee set up there by the Speaker of the House has concluded that there was evidence to indict one of them.
A red-faced BJP is tight-lipped for now. A Gujarat BJP leader Vijay Rupani denied the incident but said, "if required, we will inquire about the incident." There has been no word from CM Narendra Modi yet, who no doubt would be focused on the loss of the Mansa assembly seat to the Congress. The BJP had won this seat in the Gujarat Assembly the last four times. Gujarat votes for its next government later this year; today's by-election is the only major electoral contest before then.