New Delhi:
Highlights
MLAs flown off to Bengaluru to stop defections before Rajya Sabha polls
Congress in spot over numbers needed to elect leader Ahmed Patel
Gujarat lawmakers to elect Rajya Sabha members on Tuesday
The 43 Congress legislators from Gujarat -
whisked away to Bengaluru
last month to stem a string of
damaging defections just ahead of the crucial Rajya Sabha elections
-landed in Ahmedabad airport early this morning. Lawmakers in Gujarat will vote for three Rajya Sabha seats tomorrow.
Soon after they landed, all the legislators were whisked away in a bus to a resort in Anand district, 77 km from Ahmedabad.
"We are confident of victory. All MLAs are with us," said senior Congress leader Ahmed Patel. He, along with Gujarat Congress chief Bharatsinh Solanki, is likely go to Neejanand Resort on Anand-Borsad Road to meet the legislators.
The Gujarat Congress had sent more than 40 of its legislators to Bengaluru on July 29 to fend off what it called
"poaching" attempts by the BJP
. Six lawmakers quit the party within days last month - a plan allegedly scripted by its former leader Shankersinh Vaghela, who, the party says, is out to draw blood after he was not projected as its Chief Ministerial candidate.
Three of the legislators who quit promptly joined the BJP. None will be eligible to vote in the Rajya Sabha election on August 8. But their deletion from the Congress' rolls
jeopardises the election of Mr Patel
-- the political adviser to party No 1 Sonia Gandhi -- who has served four terms already in the Rajya Sabha. A loss would also erode the party's morale and expose new weaknesses ahead of the state election in December.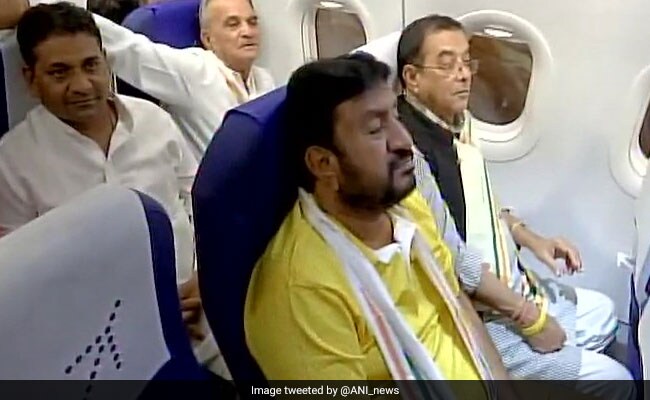 Three Rajya Sabha seats of Gujarat will be up for election on Tuesday. BJP chief Amit Shah who will be making his debut in Rajya Sabha and Union minister Smriti Irani are placed to easily win two. To get re-elected, Mr Patel needs 45 votes on basis of the current strength of the assembly. On paper, the Congress is down to 51 seats.
The BJP has fielded a relative of Mr Vaghela, Balwantsinh Rajput, as its candidate against Mr Patel, just hours after it acquired him from the Congress.
Over the last week as the MLAs remained holed up in a resort, the Congress countered charges that they were on a vacation while the state was hit by severe floods that claimed over 200 lives. The party said the
MLAs were attending "classes"
on the history of the Congress and the "lies of the BJP".
The stay of the of lawmakers was also marked by Income
Tax raids on wealthy Karnataka Minister D Shivakumar
, who had been tasked with arranging lodging for them.