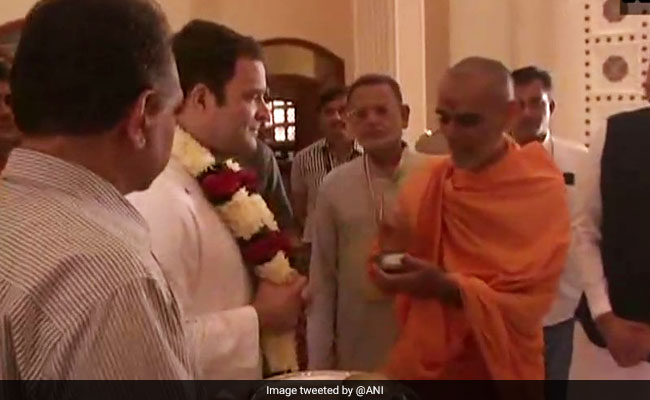 Gandhinagar:
Congress vice-president Rahul Gandhi today started the last leg of his Gujarat campaign with another attack on Prime Minister Narendra Modi. North Gujarat, which he had left for the last, is politically crucial, having a large concentration of the Patidar community, which is fighting for reservation in jobs and education.
The Congress vice-president continued his attack on the BJP over demonetisation and the Goods and Services Tax, which the party insists has been ill-conceived and wrongly implemented.
After Union finance minister Arun Jaitley revised the list, pulling out a number of goods and services from higher tax brackets, the Congress had claimed it as a victory of their sustained campaign. The party has dubbed GST the "Gabbar Singh tax" after the arch-villain of Bollywood blockbuster "Sholay".
Today, Mr Gandhi said, "We want a true GST. The Congress, along with the people of India, fought for and ensured reduction in items in 28% bracket. Next we will fight for one rate, with a cap at 18%. If BJP doesn't do it, Congress will."
The Akshardham temple, which Mr Gandhi visited, is the seat of the Swaminarayan sect that wields considerable influence over the Patidar community. The Congress, which has been trying to wrest the state from the BJP, has been trying to dent the ruling party's core bases - the Patidars head the list.
The party has been trying hard to get a formal commitment of support from Hardik Patel, the 24-year-old leader who has been the face of the agitation. But Mr Patel is expected to join the final round of negotiations only when the details of the Congress offer to the community has been fine-tuned.
The 182-member Gujarat Assembly will go to the polls in two phases -- on December 9 and 14.
The BJP, which has been in power in the state for 22 years and has been the first to start its campaign, also sent in its top leadership that includes its Central ministers ahead of Prime Minister Narendra Modi's campaign next week.
Today, defence minister Nirmala Sitharaman and her cabinet colleague Smriti Irani joining the poll campaign to counter the Congress pitch. "Nehru has ruled the Amethi constituency for 15 years... The Congress has not able to win his five Vidhan Sabha seats in the UP elections. Let them think of winning the Gujarat elections. But we will not let this dream come true," Ms Irani said.