New Delhi:
Highlights
GST to be launched in special parliament session at midnight today
Congress says manner of rollout will hurt traders and citizens
Government's GST launch programme a 'tamasha' (drama): Congress
The Congress has rejected the government's latest appeal to reconsider its decision to boycott the
midnight launch of the Goods and Services Tax (GST)
. Its vice president Rahul Gandhi launched an attack on the government on Twitter, accusing it of rushing through with
a reform with great potential
"in a half-baked way with a self-promotional spectacle".
Mr Gandhi, who is on his way back to India after a holiday abroad, also tweeted, "
Unlike demonetisation
, GST is a reform that the Congress has championed and backed from the beginning, but like demonetisation, GST is being executed by an incompetent and insensitive government without planning foresight and institutional readiness."
The Congress leader said India deserves a GST rollout that does not put crores of its ordinary citizens,
small businesses and traders
"through tremendous pain and anxiety".
GST, the opposition party claims is a Congress reform, first brought when its government was in power. The party has tirelessly pointed out that the ruling BJP had as opposition stalled the reform with then Gujarat chief minister Narendra Modi raising many objections.
Congress leaders have designated tonight's big launch organised by the government in Parliament's Central Hall a "tamasha" (drama). Their serial objections include Prime Minister Narendra Modi launching GST and not President Pranab Mukherjee and also that
a midnight session in the historic Central Hall
of Parliament has only been held thrice before, all three times to celebrate India's Independence.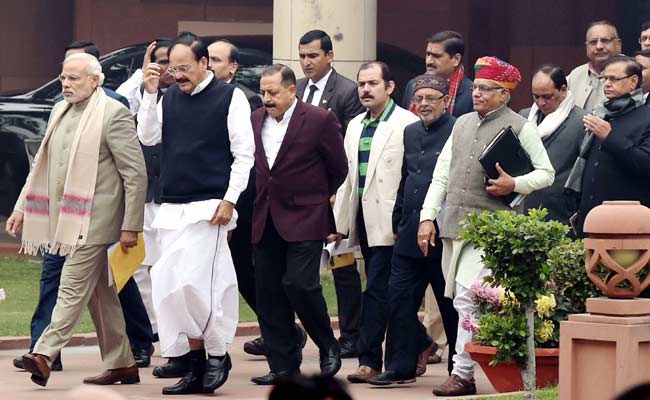 Asserting that there is no possibility of the Congress reconsidering boycott, senior party leader Anand Sharma said, "This is not a minor issue that the government will request and just few hours before the event a major opposition party will amend its decision. Keeping in mind Parliament's decorum and country's tradition, we have decided not to participate in the celebration."
He was referring to union minister M Venkaiah Naidu's reiteration of the government's invitation. "It is unfortunate because they are distancing themselves from a process of reformation. I hope they will realise it by the evening and rethink and join us in the Central Hall," Mr Naidu had said this morning.
He said fears of under-preparedness for the massive shift to a new taxation system tomorrow were unfounded. "In any transformation there will be initial hiccups and problems but they are not unsolvable. The GST council is dynamic and will address the problems from time to time," and added that "Nobody needs to worry, only those who have the habit of evading taxes need to worry."
The minister also said, "Earlier, we had political freedom, now we will have economic freedom," seeming to refer to the Congress' opposition to a midnight event being organised in the Central Hall.
The Nationalist Congress Party of Sharad Pawar, a former partner of the Congress has asked "why the fuss".
"All parties unanimously passed #GST in parliament. State Governments of different parties approved the rates. #gstrollout #GSTTamasha. Now why so much fuss over the launch function," tweeted Praful Patel of the NCP.