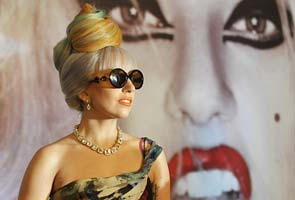 New Delhi:
Dressed more sedately than usual - no meat in sight - Lady Gaga told her Indian fans what they can expect on Sunday night when she will perform at an F1 after-party.
"We have built a special stage for the show on Sunday which is unique for India....I am going to perform some of my collaborations with Indian DJs. My outfit is going to be a hybrid of my vision and the Indian vision. I have modernized it a bit," she said
For Rs 40,000 a ticket, some might suggest an upping of the ante. And better tweets.
"This isn't the #NewDeli, its #NewDelhi! We've come a long way since the lower east side. NAMASTE!" she posted.
The 25-year-old Grammy winner told a room full of reporters, "My life is similar to many people in this room today... I am just a girl trying to make her parents proud."
The lady like dress, dark glasses and jewelry were all in keeping with the Holly Golightly look she's embraced lately.
For those who like their Gaga quirky, a few buns were charmingly piled on her crown. Baby, she was born this way.