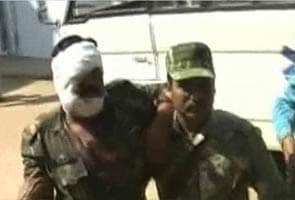 New Delhi:
The Ministry of Home Affairs wants the Indian Air Force (IAF) to penalise two pilots and the crew of a helicopter for abandoning a critically-injured wireless operator in Chhattisgarh last month.
In a strongly-worded letter that raises questions about the IAF's preparations and battle-hardiness, the Ministry of Home Affairs has asked for an enquiry and appropriate action.
The Air Force maintains that the injured wireless operator was not left to fend for himself. "He couldn't be removed since he was injured, and the Captain decided to leave him behind and look for medical help," an IAF spokesperson said, adding that a Court of Inquiry (CoI) ordered by the Air Force will determine what happened and action will be taken against "all those officials and agencies" found responsible.
On January 18, the Air Force was asked to evacuate a Chhattisgarh policeman injured in gun battle with the Maoists from the Timilwada area in South Bastar. The Mi-17 helicopter, whose crew included two Garud commandos, was shot at least a dozen times as it tried to land at the designated pick-up zone.
A Chhattisgarh Police radio operator, Y L Sahu, who had been assigned to help the pilots and crew with their navigation was on board and was hit by several bullets. The pilots landed about 4 km away and in an inexplicable decision, they left the chopper and a bleeding Mr Sahu, and made their way to the Chintalnar CRPF camp. They also abandoned two Light Machine Guns and their personal weapons.
The Indian Air Force is deployed in Naxal strongholds in a non-combat role. IAF helicopters are only used to evacuate the injured, and to ferry men and rations to remote posts.