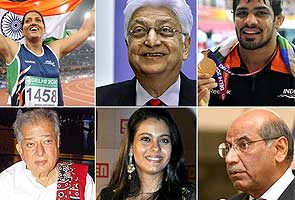 New Delhi:
Wipro Chairman Azim Premji, ITC Chairman Y C Deveshwar and ICICI Bank Managing Director and CEO Chanda Kochhar are among 12 industry leaders who have been conferred with the Padma civilian awards this year.
While Premji (65) is the only industrialist who has been conferred the nation's second highest civilian award Padma Vibhushan this year, eight others have been awarded the Padma Bhushan. Three others, including a non-resident Indian have been conferred the Padma Shri.
Besides Kochhar and Deveshwar, Padma Bhushan awardees include Dr Reddy's Laboratories Chairman K Anji Reddy, Infosys CEO and MD S Gopalakrishnan, NIIT Chairman Rajendra S Pawar, HCL co-founder Ajai Chowdhary.
Max India Chairman Analjit Singh, GVK Group Chairman and MD GVK Reddy are also on the list of Padma Bhushan recipients.
An electrical engineering graduate from Stanford University, USA, Premji has been leading Wipro since 1966, when it was focused only in manufacturing of hydrogenated cooking fat.
Since then, Wipro has expanded operations and is now a USD 5 billion group with presence in sectors including in IT and BPO spread over 50 countries. The company is India's third largest software exporter after TCS and Infosys.
Another noted awardee is diversified business group ITC's Deveshwar (63). He is an engineering graduate from IIT Delhi and joined ITC Ltd in 1968. In 1996 he became the Chief Executive and Chairman of the company, which is now a USD 6 billion group. Between 1991 and 1994, he also led Air India as Chairman and Managing Director.
Kochhar (49) is the only woman industry leader to feature on the list this year. She started as a management trainee in 1984 in ICICI and rose through the ranks. In 2009 she took over the reins of the bank, which currently has assets of USD 81 billion and is the largest private lender of the country.
Reddy has also been awarded the Padma Bhushan. Since founding the pharmaceutical firm in 1984, Reddy (70) has led Dr Reddy's Laboratories to become a top innovative drug research and discovery firm in the Indian pharma industry. He is also a member of the Prime Minister's Council on Trade and Industry.
Another Padma Bhushan awardee is a well-known Infosys Technologies Chief Executive Officer and Managing Director S Gopalakrishnan (56).
Popularly know as Kris, he is one the co-founders of Infosys, along with NR Narayana Murthy and five others.
Gopalakrishnan was appointed CEO and Managing Director of the country's second largest software exporter in June 2007.
NIIT Chairman Rajendra S Pawar (60) has pioneered computer education market in India, when he co-founded the company in 1981. The NIIT Group now encompasses two businesses NIIT Technologies Ltd, the software and services arm and NIIT Ltd, the leading Global Talent Development Corporation.
Analjit Singh (56), the founder and Chairman of Max India has been the driving force behind the group's sustained growth and success since the mid 80's. Today, the over Rs 7,600 crore group has a big presence in healthcare and insurance business.
HCL Infosystems Chairman Ajai Chowdhry (60) is one of the six founder members of HCL, India's original IT garage start- up founded in 1976, which is now a USD 5.5 billion global enterprise. He was appointed the Chairman of HCL Infosystems in November 1999.
G V Krishna is the Chairman of the diversified business house GVK Group, which operates the Mumbai and the Bangalore airports. He has been a pioneer in private participation in infrastructure development, mainly in power roads and urban landscape.
Meanwhile, this year's three Padma Shri awardees are Mecca Rafeeque Ahmed, Chairman of the Farida Group, Orchid Chemicals and Pharmaceuticals Chairman and Managing Director Kailasam Raghavendra Rao and Singapore-based investor Satpal Khattar.