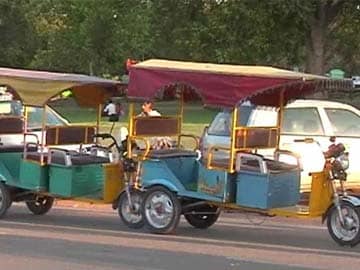 New Delhi:
Union Transport Minister Nitin Gadkari was greeted with loud cheers at Delhi's Ramlila Maidan yesterday when he assured that battery-operated rickshaws, or e-rickshaws, will not be barred from operating in the national capital and they will be considered as non-motorised vehicles.
The Transport Ministry had rendered e-rickshaws illegal via a notification issued on April 24.
The government may have permitted e-rickshaws to return to the streets of Delhi, but the permission comes with some riders.
Mr Gadkari said that e-rickshaws with motor power till 650W would now be considered as non-motorised vehicles
"This initiative will benefit two crore drivers across the country," he said.
All battery operated rickshaws will have to be registered and identity cards will be issued only to those who drive e-rickshaws. This is an attempt by the government to weed out those who lease their vehicles to drivers.
E-rickshaws will be allowed to carry only four passengers and up to 50 kilograms of luggage.
The Transport Minister has also written to Finance Minister Arun Jaitley, requesting him to facilitate the granting of loans to e-rickshaw drivers at three per cent interest.
Welcoming the move, Rajesh, a differently-abled rickshaw driver, told NDTV, "If their promises on the loan come through, it will be a huge boost to us. Otherwise, contractors can really exploit people like us."
With this decision, the BJP-led NDA government has not just put an end to the protests by e-rickshaw drives but also managed to steal the spotlight from the Aam Aadmi Party, a day after its leaders met Lieutenant Governor Najeeb Jung to plead the case of the e-rickshaw drivers.
The party has accused both the Congress and the BJP of 'playing politics' over the issue.
"We are interested in making sure people do not suffer," said party spokesperson Dilip Pandey.