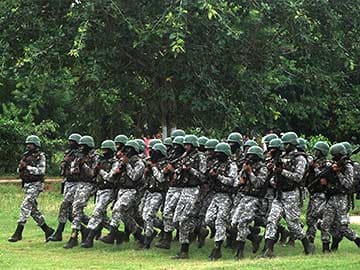 New Delhi:
After a series of meetings in the Home ministry, the Centre has reportedly decided to tweak its internal security strategy, especially its plans to counter the Maoist menace.
Home Minister Rajnath Singh, who met the heads of Central Armed Police Forces or CAPFs on Friday, discussed new initiatives lined up for Maoist-dominated areas, according to sources. One of the suggestions reportedly proposed at the meeting is to rename the government's Naxal Management Division as Left Wing Extremism Division. A notification to this effect is likely to be issued within a few days.
More importantly, the Home ministry has decided to revert to the earlier "security first" approach in dealing with Maoist insurgency, say sources. As per the policy, development projects in Naxal-affected areas will be started only after fully securing an area in order to ensure the safety of agencies involved in the relevant projects. For a very brief period, during the Congress-led UPA-II rule, the "clear, hold and develop" strategy was sought to be implemented, but the pro-development lobby did not allow its full implementation. The strategy involves pumping in security forces, drive out Maoists from a particular area (clear), continuing the deployment (hold), and then allow agencies to implement development projects.
At yesterday's meeting, the heads of CAPFs also reportedly proposed enhanced hardship allowance for security forces working in anti-Maoist operations. The allowance, they reportedly said, should be at par with those given to their counterparts deployed in Jammu and Kashmir and in north-eastern states. An incentive model for administrators like District Collectors and Superintendents of Police (SPs) posted in Maoist-affected districts has also been proposed, say sources.
Simultaneously, the Home ministry also emphasized on according priority to road construction and telecom projects in Naxal-hit areas, according to sources.