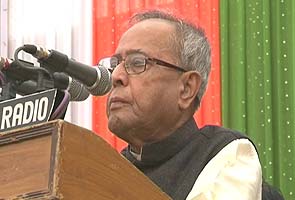 New Delhi:
Under attack from the Supreme Court and the Opposition over stashing of large amount of money in Swiss banks and other tax havens, the government will unveil its strategy to deal with the issue on Tuesday.
Finance Minister Pranab Mukherjee will announce the measures the UPA government intends to take to bring back the unaccounted money into the country and tighten the regulatory and tax framework to prevent further illegal outflows.
"Finance Minister will hold a press conference on the issues related to black money," Finance Ministry spokesman said.
The Supreme Court had pulled up the government for withholding information on black money stashed in foreign banks, saying it is not just limited to tax evasion but a "mind boggling crime" amounting to "theft" and "plunder" of national wealth.
Prime Minister Manmohan Singh had said there was "no instant solution" to bring back black money stashed in foreign banks and that information with the government cannot be made public due to treaty obligations.
"There is no instant solution to bring back what is called black money. We have got some information and that has been provided to us for use in the collection of due taxes," he had said.
The issue came for discussion at the last meeting of the Union Cabinet during which Prime Minister Manmohan Singh had said that it was not possible to make specific details such as about black money parked in Swiss banks.
Mukherjee had pointed out that the government had received information about the black money accounts in foreign banks as per international treaties and if this is revealed, no government would share such details in future.
It was emphasised at the Cabinet meeting that the information was shared purely for taxation purposes and the government intends to do the same without making public the names of account holders or other details.
The government had also appointed a Group of Ministers (GoM), headed by Mukherjee, to suggest legislative and administrative steps to deal with the menace of black money.
The GoM at its first meeting last week asked the government to expedite the Lok Pal Bill. It also asked the Cabinet Secretary to form two committees to go into the specific issues concerning black money.