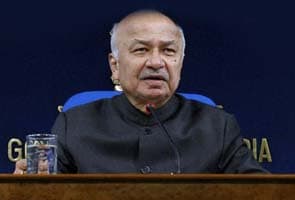 New Delhi:
As India seethes with anger over the gang-rape of a young woman in a Delhi bus, the government has said it will ask for changes to criminal laws to introduce the death penalty for "rarest of the rare" sexual assault cases.
Home Minister Sushil Kumar Shinde also said that a judicial commission is being assigned to evaluate the response by officials to the heinous attack and suggest how to improve the safety of women.
(Highlights: Government committed to women's security, says Home Minister)
For now, he said, the government is adding more public buses at night for Delhi, and that all buses will be equipped with GPS tracking systems, allowing their movement to be monitored.
In Delhi, hundreds of protesters spent the day near Rashtrapati Bhavan and India Gate demanding that representatives of the government explain what is being done to make the capital safe for women. The police teargassed the crowd and used water cannons when some protestors tried to break through the police barricades. Mr Shinde asked protesters to stay calm.
In the evening, Congress President Sonia Gandhi phoned the Prime Minister and Home Minister to demand that quick and appropriate action be taken, sources said.
Mr Shinde said that five policemen have been identified for dereliction of duty on the night when the student was raped and action will be taken against them.
He reiterated that the government will ask for a fast-track trial with daily hearings for this case.
Yesterday, Home Secretary RK Singh provoked outrage when he said that the police in Delhi "have no reason to be defensive" because they had identified and arrested the six men who assaulted the girl.
(Read)