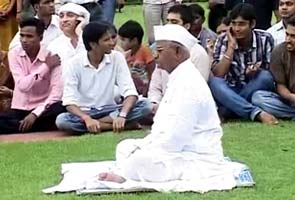 New Delhi:
The Government has justified Delhi Police rejecting permission for Anna Hazare's planned fast here from Tuesday, Aug 16, saying a major gathering cannot be allowed in present day circumstances if it is "uncontrolled."
The Government also said Mr Hazare and his supporters have the right to protest but the law of the land is equal for all and everything has to be done lawfully.
"Everything has to be within the rule of law. You can't allow a major gathering in today's circumstances if it is uncontrolled," said Union Law Minister Salman Khursheed, who was also part of the Lokpal bill's joint drafting committee.
"If they want to agitate and protest that's part of their right. But it is the government's and the concerned department's responsibility to ensure safety and proper regulation of traffic and of people," he added.
Information and Broadcasting Minister Ambika Soni said, "I do not want to say any harsh thing against anybody. The law of the land is equal for all. Be it Congress, any other political party or any citizen, we all have to take the permission of the law and order machinery to carry out any protest or march."
Echoing Ms Soni's sentiments, Mr Khursheed said, "Even when we, the ruling party, wants permission to hold a rally, restrictions are imposed on us and we accept those."
Ms Soni said "If anybody tries to violate it (law) knowingly" the law and order machinery will have to act.
Replying to questions on Team Anna's contention that its right to protest cannot be taken away, Mr Soni said everybody has a right to protest but permission has to be sought keeping in mind law and order and other factors.
Soni dismissed allegation of civil rights activist Arvind Kejriwal that the police set the conditions on them at the behest of politicians saying any person making such allegation is "deliberately trying to mislead."
(Read: Who is Anna Hazare)
She said if anybody wanted to end corruption, some mechanism will have to be built and wondered "why there is this panic and desperation. Why can't we wait when we are going to take such a historic measure (bringing the Lokpal bill into effect)."