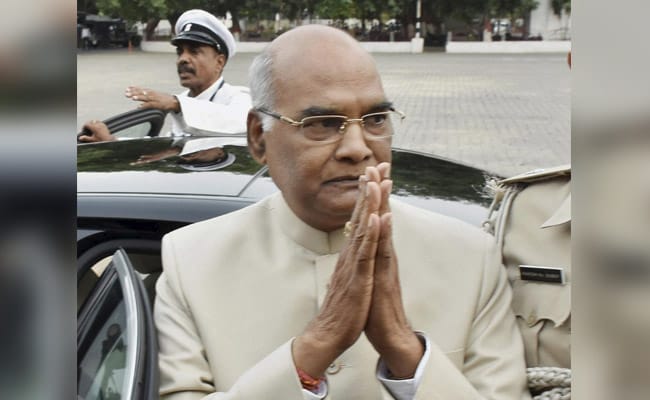 Bhopal:
The NDA's presidential pick Ram Nath Kovind on Saturday said he had discharged his duties as the governor of Bihar with a belief that "everyone was equal, irrespective of religion, caste and region," and which is why he got support from the state.
Mr Kovind was apparently referring to Bihar Chief Minister Nitish Kumar, who broke ranks with the opposition, to support the former's candidature for the top constitutional post.
"For us, people of all religions, caste and regions are equal and on that basis, I have only discharged my duties as the Governor of Bihar. That is why we have got support from Bihar also," a BJP release quoted Mr Kovind as saying.
Mr Kovind had resigned as Bihar Governor on June 20, a day after he was picked as NDA's presidential candidate.
He said although he was born in Uttar Pradesh, Madhya Pradesh was his place of work.
"Therefore, I have come here not to garner support, but to seek blessings so that I maintain the dignity of the president's post as maintained by my predecessors like Dr Rajendra Prasad, Radhakrishnan and APJ Abdul Kalam," he said.
Mr Kovind was addressing BJP MPs and MLAs at the chief minister's residence.
Union minister Sushma Swaraj, who was also present during the meeting, said the country has four top posts --President, Vice President, Prime Minister and Lok Sabha Speaker.
"Out of these four, the BJP has so far occupied three posts. Now that happy moment is coming when we will see our worker occupy the country's highest post. The country will celebrate Diwali on July 25," the External Affairs Minister said.
Describing Mr Kovind as an able worker, Ms Swaraj said he was selected for the top post because of his abilities and qualifications and not because he was a Dalit.
"The politics being played out in the name of Dalit versus Dalit pains me a lot. He (Mr Kovind) was selected for the government job through UPSC, but he had declined the offer as he was destined to offer a letter of appointment to a prime minister and become the supreme commander of the three forces," she was quoted as saying in the release.
Union ministers Thawar Chand Gehlot, Narendra Singh Tomar and Faggan Singh Kulaste, Madhya Pradesh BJP in-charge and party's national vice president Vinay Sahasrabuddhe and others were present on the occasion.
Madhya Pradesh Chief Minister Shivraj Singh Chouhan and Sahasrabuddhe also addressed the meeting highlighting the numerous achievements of Mr Kovind during his stints at various positions.
Meanwhile, three independent MLAs -- Kalsingh Bhabar, Sudesh Rai and Dinesh Munmun -- have also extended support to the NDA's presidential candidate.
Mr Kovind, who landed at the Raja Bhoj airport in Panaji in a special flight in the afternoon, was accorded a warm welcome by the ruling BJP at the state's dedicated hangar at the airport.
Madhya Pradesh Congress, however, criticised the BJP for using airport premises for according welcome to Mr Kovind. The chief minister, along with his ministerial colleagues and senior party leaders, welcomed Mr Kovind.
Speaking at the airport, Mr Chouhan heaped praises on Mr Kovind, describing him as the "most able candidate" for the post.
The CM recalled that Union minister Thawar Chand Gehlot and he himself were present at the BJP's parliamentary board meeting where Mr Kovind was unanimously selected as the candidate for the highest constitutional office.
"Later, when party president Amit Shah informed other NDA partners about it, they all open-heartedly supported the decision," Mr Chouhan said.
State Congress chief Arun Yadav slammed the BJP for using airport premises for welcoming Mr Kovind.
"After the Goa airport incident, the BJP now erected a tent and dome for welcoming Kovid, which amounts to misuse of public money," Mr Yadav said in a statement.
Last Saturday, BJP president Amit Shah had addressed a party meeting at Goa's Dabolim International Airport premises. Mr Shah, who was on a two-day visit to the coastal state, was accorded a warm welcome outside the airport, where he addressed party workers. Congress had demanded a probe into the meeting, terming it "illegal" and "gross abuse of power".