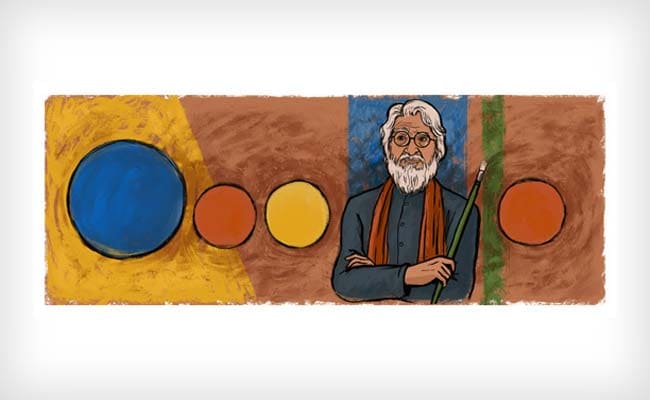 Today's Google Doodle celebrates the 100th birthday of one of India's most renowned and multifaceted artists, Maqbool Fida Husain, who passed away on June 9th, 2011, at the age of 95.
Maqbool Fida Husain, commonly known as MF Husain, has been called "The Picasso of India." This was partly due to his modernist, slightly cubist paintings and to the sheer volume of work he produced. His middle name, Fida, can be translated as "obsessed" or "devoted," which could also describe his approach to making art.
The doodle honours the Master of modern Indian painting in a very abstract manner. You see geometrical figures being used for the doodle; circles are used to represent the letters G O O E leaving the illustration of MF Husain and a paint brush in his hand to represent the second G and L; to complete the word GOOGLE.
When you click on the doodle you are taken to the search page with a list of websites ready to give you information about MF Husain, his life, his achievements, his controversies. Amongst the various sites you will also get a link to his official website.
MF Husain was born in a Muslim family in Pandharpur to a Sulaymani Bohra family who trace their roots back to Gujarat within the last 200 years, and then originally to Yemen.
He got married to Fazila in 1941. The couple had two daughters Raisa and Aqueela and three sons, Mustafa, Shamshad and Owais.
MF Husain is primarily known for his paintings, but is also known for his drawings and his work as a printmaker, photographer, and filmmaker. Some of his later works stirred controversy, as they depicted traditional Deities of India in non-traditional ways.
In 1966, he was awarded the prestigious Padma Shri award by the Government of India.