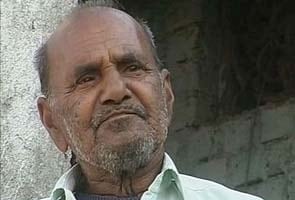 Godhra, Gujarat:
In January 2008, Chandbhai Dhobi of Godhra got surprise summons. Narendra Modi was in town and wanted to meet him. The two men, a 66-year-old washerman and the 57-year-old Chief Minister were meeting after three decades. Chandbhai was ecstatic and suddenly famous.
Residents of the small shanty where he lives, mostly Muslim daily wagers, recount how a convoy of police cars drove into the narrow bylanes looking for Chandbhai's ramshackle home and causing much concern. "The team was led by a local mamlatdar (revenue official) who told me to quickly change as the Chief Minister was in town and wanted to meet me. I was relieved,'' says Chandbhai, now 70.
Chandbhai washed clothes for Mr Modi when the latter was an RSS pracharak or worker during a decade-long stay in Godhra in the 1970s. Now, Mr Modi was in town for a Republic Day-related programme, a full six years after 56 people were killed when a coach of the Sabarmati Express was set afire at the Godhra railway station. In the communal riots that followed all over Gujarat, more than 1,000 people, mostly Muslims, were killed. Mr Modi has been accused of not doing enough to prevent the riots.
In that January of 2008, Narendra Modi was less than a year into his second full term as Gujarat Chief Minister and had just embarked on an elaborate image makeover, recasting himself as an ambassador of development. He would soon sell brand Gujarat to the world.
In Godhra that day, he sold Chandbhai a small dream, the washerman claims. "He asked me about my financial condition and when I had told him that sustenance was a struggle, he handed over a 5-lakh- rupee cheque. I refused and instead sought a small plot of land for myself. He instantly agreed,'' he says.
Five years later, Chandbhai is still waiting for that plot of land, vanquished by red tape. Soon after the meeting with Mr Modi, he had applied for a 200-sq-mtr plot from the Chief Minister's discretionary quota. "The letter was directed to the Collector's office. But till today I haven't been allotted the plot. Every 15 days, I knock on the doors of the administrators, but they always insist that it will be done,'' says the septuagenarian.
Chandbhai even met Mr Modi last year to complain about the delay. He got another promise, he says, but nothing has happened since.
The district administration says his file is being processed, and attributes the delay to procedural problems and promises action soon.