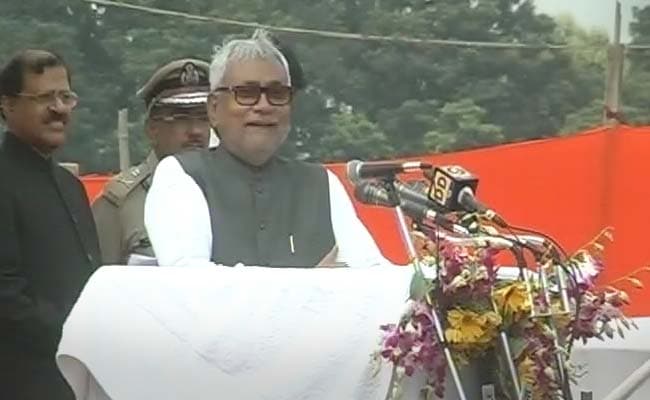 Patna:
The issue of special status for Bihar figured prominently in Chief Minister Nitish Kumar's address to the people at the Independence Day celebration in Patna today. Speaking on the occasion, Mr Kumar said, "If Bihar gets special status, we would get tax sops, youths would get employment. I have a dream that people from other states come here to find employment. This will happen. It will not be on the alms that someone gives. If you have to give, give us special status, not some doles."
Mr Kumar's jibes were clearly aimed at the BJP, which will be facing off against him in the upcoming Bihar assembly elections. One of the most prominent battles in the state is over the demand for special economic status. A long standing-demand of Nitish Kumar, it has been rejected by the BJP-led NDA government at the Centre. The BJP, however, says Bihar would have no lack of funds.
Mr Kumar has for years pushed for special status for Bihar. Once classified as such, a state would have to bear only 10 per cent of the funding of Central schemes, instead of the 25 per cent share of normal states. Mr Kumar has said special category status for Bihar would mean tax sops for industries in the state, required for developing the state, and more money from the Centre for public utility works. While rejecting the request for special status from Bihar and Odisha, Union Planning Minister Rao Inderjit Singh recently said in Lok Sabha that the Centre would consider giving the states special financial assistance instead.
But with the Assembly polls around the corner, the BJP does not want to sound too negative, saying it is the money that is important to Bihar, and not what it is called. In his election rally at Muzaffarpur last month, Prime Minister Narendra Modi himself said that the Centre is mulling a financial package in the excess of Rs 50,000 crore for Bihar.
The National Development Council first accorded special status to Jammu and Kashmir, Assam and Nagaland in 1969. Over the years, eight more states were added to the list - Arunachal Pradesh, Himachal Pradesh, Manipur, Meghalaya, Mizoram, Sikkim, Tripura and Uttarakhand. Sources in the Central government have said giving special status to Bihar in an election year could lead to more such demands from other states in the future, which the Central government may not be able to fulfill because of financial constraints.