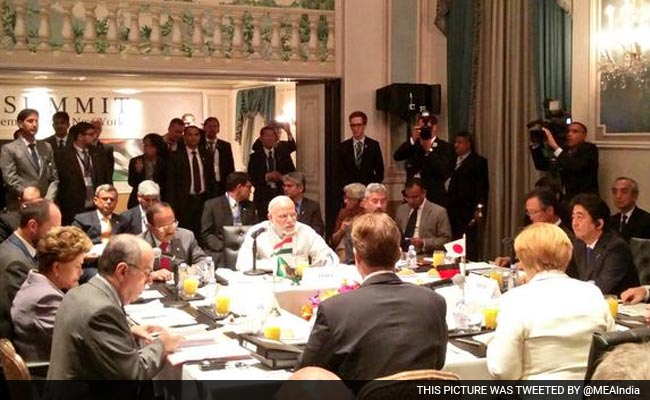 New York:
There is an urgent need to reform the United Nations Security Council within a suitable time frame to make it more representative and the members of the
G4 countries
are legitimate for permanent membership. This was what
Prime Minister Narendra Modi
, German Chancellor Angela Merkel, Japanese Prime Minister Shinzo Abe and Brazilian President Dilma Rousseff said in a joint statement after their special summit meeting on Saturday.
(See photos)
India is making a pitch for a permanent membership in the council and the meeting of the four leaders was focused on reforms of the UN Security Council or UNSC, a part of which would be to enable the inclusion.
The three nations, along with India, make up what is known as the G-4 group - countries which back each other's bid for permanent seats at the UNSC. This was the first meeting of the G4 in a decade - the boost came after the UN General Assembly adopted a negotiating document for the long-pending reforms.
A powerful world body, the UNSC is in charge of international peacekeeping and making changes in the UN charter.
In his opening remarks for the summit -- his last official engagement in New York before he heads for the West Coast -- PM Modi said the UNSC must be reformed within a fixed time frame to "include the world's largest democracies, major locomotives of the global economy, and voices from all the major continents".
The world has changed since the UN was formed, the PM said. The number of member states have increased four-fold and "the threat to security have become more complex, unpredictable and unidentified". A more inclusive council, he said, "will carry greater credibility and legitimacy and will be more representative and effective".
The security council - formed in 1945 -- has five permanent members: China, France,
Russia
, the United Kingdom, and the United States. Ten non-permanent members are elected for two-year terms.
India has support from 122 of the 193 member countries, NDTV has learnt. Opposition to its inclusion is expected not only from the permanent members but also China and Pakistan. The
US, one of the council's permanent members, has said it is committed to India's inclusion
as a permanent member.